The holiday season is (sadly) coming to an end. You're getting ready to take down your holiday decorations and you're wondering, "How do you dispose of a Christmas tree?"
Whether you have a real Christmas tree dropping needles in your living room, or an artificial one that has seen better days, tossing your tree in a dumpster is not the best way to get rid of it. Throwing out an artificial tree takes up valuable space in landfills, and real ones end up generating methane – a potent greenhouse gas. So instead of using the dumpster, consider a few of these clean and green Christmas tree recycling options.
How to Get Rid of a Real Christmas Tree
Find a Christmas Tree Collection Near You
Many cities have a curbside yard waste collection service that accepts real trees, making Christmas tree disposal a breeze. Other cities offer tree collection locations where you can drop off your tree for recycling. Call your city services department for information about collections in your area.
To dispose of your real Christmas tree this way, make sure you remove all decorations and deliver it to the desired location. This option may not be available to you if your tree has been spray-painted, flocked or if you used tinsel to decorate it.
If your city doesn't offer either of these services, organizations like the Boy Scouts of America often host similar collections for a small fee. Some tree farms will even take your old tree back for mulching. Use Earth911's Recycling Search to find real Christmas tree collection services near you.
"Some communities have curbside pickup for recycling, others have chipping weekend at central location where people can bring their tree and then take home the mulch or donate the mulch for use in their local parks. Check with your local recycling coordinator for details."
Recycle Your Christmas Tree by Donating It
There are many environmental organizations that recycle Christmas trees in unique ways. Some zoos will accept trees and use them as treats or playthings for animals. A wildlife organization near you may collect Christmas trees to use as habitats for animals in the winter. In some areas, recycled Christmas trees are used to protect riverbanks, dunes or coastlines from erosion. Do some research to find out what organizations are recycling Christmas trees near you.
"Some communities have programs in place where they will take your old Christmas tree, drill a hole in the base, tie a brick to it and throw it in a lake. When humans create artificial lakes, they tend to be relatively featureless on the bottom for easy dredging. Christmas trees provide a nice, temporary place for fish to hide."

Reuse Your Christmas Tree as Firewood
Repurposing your Christmas tree as firewood or kindling is one of the most common uses for used trees. Just remember not to burn wood from your Christmas tree in an indoor fireplace. The sap can stick to the inside of your chimney and cause a chimney fire. Chop up your tree and then let the repurposed wood dry out for several months before using in an outdoor fire pit or in a bonfire.
"Pro tip: Before you move your Christmas tree, cover it with a Christmas tree disposal bag to prevent needles from scattering as you relocate it."
How to Get Rid of Artificial Christmas Trees
Donate Your Used Christmas Tree to Continuing Spreading Cheer
Instead of throwing away your used tree, give it a second life by donating it to a facility that accepts used holiday decorations. Many thrift stores will resell used artificial Christmas trees to raise funds for their cause, including most Goodwill retail stores.
You can also donate the tree to facilities like senior centers, retirement homes, nursing facilities or hospitals, which often collect trees to decorate their many rooms. This is a great option to make sure your tree continues to bring holiday cheer to others when you're finished with it. Reach out to thrift stores and other organizations near you to find out which ones take used artificial trees.
Turn Your Tree Into DIY Holiday Crafts
If you're feeling crafty, turn your old, artificial Christmas tree into other types of holiday décor and use it again next year. Here are a few simple projects to try:
Centerpiece: Simply cut off the top of your artificial tree and you have a miniature tree that can be placed in a mason jar or vase for a perfect table centerpiece.
Wreath: Using wire cutters, remove the branches from the center part of the tree. Choose six or eight branches and bend them into arches. Overlap the branches to form a circle and connect them with zip ties or wire.
Napkin rings: Turn the smallest twigs into festive napkin rings by simply shaping them into small circles and slipping them onto rolled napkins.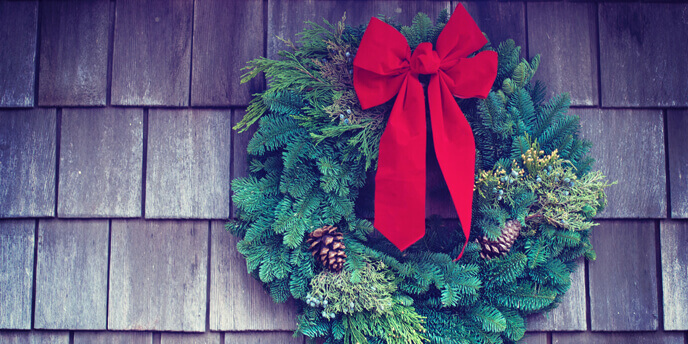 Take some time to think about the best use for your old tree instead of tossing it in the garbage. By getting rid of your Christmas tree the green way, you are helping to reduce landfill debris and letting it continue to spread holiday cheer.
Looking for other ways to stay green this season? Take a look at the Green Living section of our blog for more tips on living sustainably and making a positive impact on your environment.