A staggering 549,928 people in the U.S. live day-to-day without a place to call home. Overcoming these adverse conditions is often impossible without a helping hand. Fortunately, there are organizations giving back to communities throughout the country by building tiny homes for the homeless.
At Budget Dumpster, we're no strangers to the tiny home movement. We've seen tiny homes made from salvaged materials and even tiny homes built for as little as $420, but we're most excited to see tiny home communities take shape for those in need and help revitalize communities.
Find out how these six tiny home neighborhoods lead the homeless to a better quality of life.
---
1. Quixote Village
Formerly a tent city, Quixote Village opened its doors as a permanent tiny home community for the homeless in 2013. The village in Olympia, Washington consists of 30 tiny homes, housing one adult per unit, and a multipurpose community building. The community building features a resident kitchen, showers, restrooms, a living area and staff offices.
According to Raul Salazar, the Program Manager at Quixote Village, the residents are required to follow general rules and structure while residing in the tiny home neighborhood. The staff works closely with residents to help them overcome their difficulties and to achieve a more fulfilling lifestyle.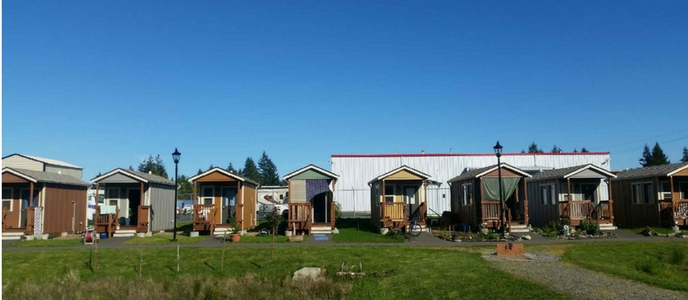 ---
2. Community First! Village
Mobile Loaves & Fishes' tiny home community, called the Community First! Village, provides affordable, permanent housing for the chronically homeless in Central Texas. The 27-acre tiny home neighborhood boasts walking trails, community gardens, close proximity to public transportation and a medical facility for regular health screenings.
"Having a permanent home in Community First! Village is a core component of the healing process for our friends who are coming out of chronic homelessness," said Alan Graham, Founder and CEO of Mobile Loaves & Fishes.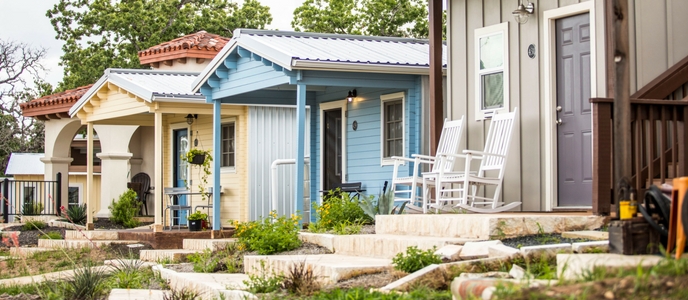 ---
3. Sawhorse Revolution
Sawhorse Revolution brings Seattle high school students together with carpentry and a variety of community-oriented projects. In Spring 2016, students of Franklin High School in south Seattle built the Salvage House entirely from secondhand and salvaged materials. The tiny home is part of the nonprofit's Impossible Neighborhood project for those enduring homelessness in the Othello neighborhood of Seattle.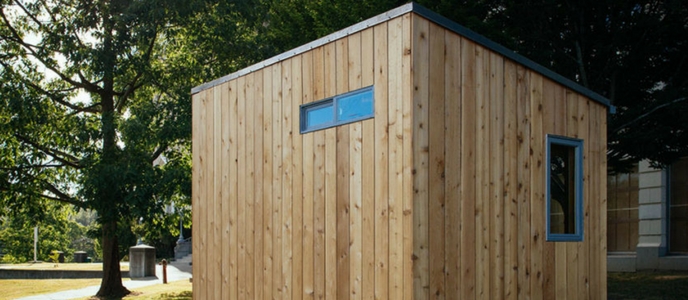 ---
4. Open Table Nashville
Open Table Nashville began in 2011 after a flood hit Nashville's largest homeless encampment along the banks of the Cumberland River, displacing 140 people. Open Table has since served over 2,000 chronically homeless and medically vulnerable people in the Nashville area. To transition from the streets to permanent supportive housing, the nonprofit designed The Village of Glencliff, consisting of 22 tiny homes for the homeless.

3D Walkthrough Courtesy of Centric Architecture
---
5. Second Wind Cottages
Second Wind Cottages of Newfield, New York builds tiny homes for the homeless to guide residents to restored lives. The homeless community began with the construction of six cottages in 2014. Now, the village has 12 cottages built entirely by volunteers and with the help of donated supplies. The team has plans to expand with 18 more cottages to satisfy their wait list.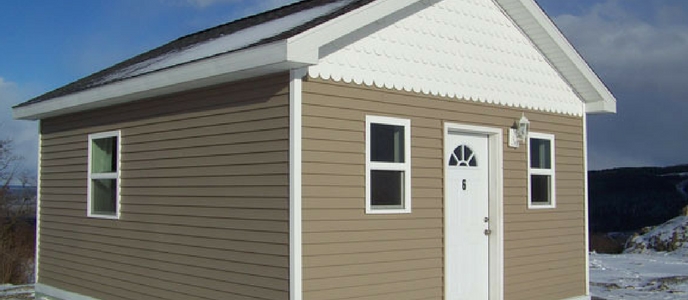 ---
6. Potter's Lane
Established in 1985, American Family Housing began as a food distribution project and has since expanded to provide much more to those experiencing homelessness. The nonprofit built Potter's Lane out of 45 steel shipping containers, resulting in 16 modern studio apartments in just six months. Located in a beautiful, restorative spot in Southern California, this tiny home community features soothing outdoor community spaces with native plants where residents can interact and relax.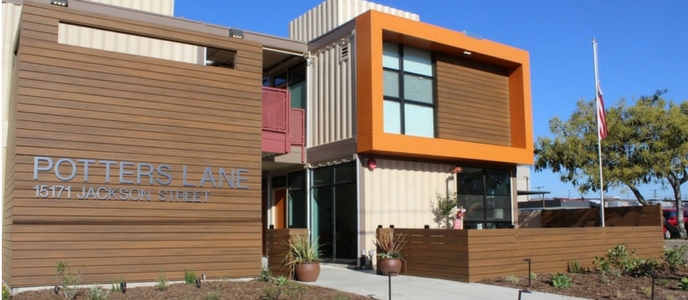 ---
Tell Us About Tiny Home Communities Near You
Have you seen tiny homes for the homeless in your community? Let us know about them in the comments below. Also, visit our Community Spotlights to find other organizations making a positive impact in your neighborhood.