From choosing the right flooring to finding curtains that match your style, decorating can be overwhelming, especially when you're trying to build your dream home and stay on budget. With so many decisions to make, it's always good to have a few experts to consult. That's why we've created this list of thrifty home decorating blogs to help you stay on budget.
Consult these six DIY experts for home décor inspiration and to find ways to save while designing your dream home.
Best Budget Decorating Blogs for Tips and Inspiration
In My Own Style
Written by Diane Henkler, the In My Own Style blog is a great resource for beginner decorators. Author of the book "Instant Decorating," Diane has been writing about interior design since 1990. She writes concise and informative articles detailing projects in a way that is accessible to readers of any knowledge level, from experts to amateurs. Her experience working on tight budgets is clear from the amount of detail she includes in her project write-ups, from step-by-step instructions to clever cost-saving tips.
She'll teach you how to paint everything in your home to make it look like new. Her inspiring before-and-after photos show how just a little paint, on the walls or the furniture, can change the whole look of a room.
Pro Tip: "Keep your eyes and mind open to see the possibilities in everything and anything you see, from a table in roadside trash to high end accessories and furniture at a chic boutique. Take photos of things you like when you are out and about so that when you find a trashed table you have an inspiration photo to help you copy the finish from the high end piece to create something fabulous to decorate your home in style. With a bit of ingenuity and resourcefulness I think anyone, even [those] on a budget, can create a home they love."

Diane Henkler | In My Own Style
Bookmark this budget decorating blog for the helpful painting section and never hire a professional painter again.
---
Marty's Musings
Writer and home decorator Marty Walden believes anyone can turn their house into a home while decorating on a budget. You just need a bit of inspiration, some elbow grease and some paint. With rustic details and distressed furniture, Marty's Musings offers projects that are perfect for those who admire fashionable farmhouse décor, but hate the high price tag.
Marty's affordable interior design ideas include repurposing wood, updating old furniture and completing room makeovers with little-to-no construction.
Pro Tip: "Shop used! Try yard sales and garage sales, thrift stores and even the side of the road for trash to treasure projects. Paint can be your best friend for transforming ugly furniture and accessories into something that will match your style and vision. Don't be afraid to try something new. When you don't spend much money on an item it's ok to take chances!"

Marty Walden | Marty's Musing
Bookmark this home decor blog for inexpensive room transformations and furniture makeovers.
---
Old Brand New
While not focused exclusively on budget decorating, this home décor blog provides an expert look at the thoughts and inspiration that go into decorating a home that reflects your personal style. Writer Dabito brings spaces alive with art, color and great design. While many of his projects are high-end, Old Brand New also highlights stores with affordable home decorations and provides detailed insights into the designing process from start to finish.
Bookmark this one for color inspiration and shopping recommendations for any budget.
---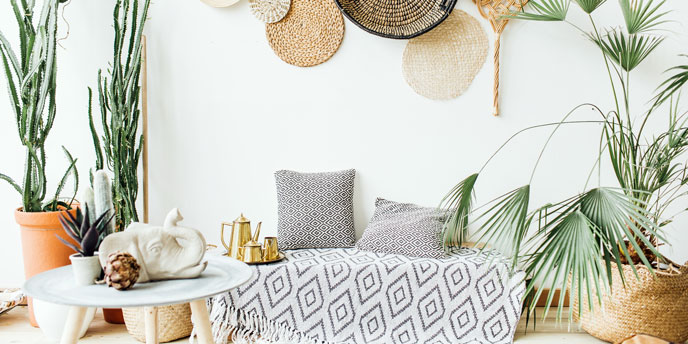 Rambling Renovators
Currently in the process of decorating her second home, Jen and her handyman husband detail their decision-making process for colors, wallpaper, duvet covers, art and lighting, as well as where to get the best deals for these items. With Rambling Renovators, they hope to inspire readers to add traditional character to their homes without going over budget. Jen outlines where she shops and which projects are done the DIY way to save on installation or construction costs.
Bookmark this blog for affordable interior design advice, including in-depth lists of budget home décor shops and tips for getting the best deal.
---
Snazzy Little Things
After a recent move, Jeanette is outlining her plans for a low-budget, high-impact interior redesign in her second house. She's currently decorating in a neo-classical design, but her older posts show readers how to achieve the farmhouse-chic look she chose for her first home.
This budget decorating blog highlights her clutter-free, easy-to-maintain aesthetic and encourages readers to try out the projects that inspire them. Snazzy Little Things is full of budget decorating ideas as well as general tips for home updates that will help you achieve the overall design you're striving for.
Pro Tip: "The best approach [to decorating on a budget] for me has been to decorate minimally but tastefully. I shop my own home as a first step. A trick that works for me: empty the room and reimagine the room with only your favorite pieces. Sell off the excess and use the proceeds to fill in the gaps and fund your new purchases."

Jeanette Lockmiller-Stretch | Snazzy Little Things
Bookmark this decorating on a budget blog for projects that add value, as well as style, to your home.
---
Thrifty Décor Chick
Thrifty Décor Chick is one of the best decorating on a budget blogs for anyone with expensive taste and a small budget. Sarah, the writer behind Thrifty Décor Chick and a professional interior designer, uses her blog to illustrate ways to create affordable décor elements that look like expensive, trendy decorations. Her aesthetic favors crown molding, shades of grey and handmade accent pieces. From building your own shelves to shopping sales, this blog provides plenty of ways to save on home décor.
Bookmark for easy DIY decorations that look more expensive than they are.
---
What's Your Go-To Budget Decorating Blog?
No matter your style, staying on budget is a top priority when it comes to creating a well-decorated home. Yet these experts prove you don't have to break the bank to have beautiful, trendy home décor. What resources do you use to find the perfect home accents at the right price? Tell us about the blogs you follow for affordable interior design ideas in the comments.
---
Need to clear some space for all your new DIY ideas? Before diving into your plans, check out The Ridiculously Thorough Guide to Decluttering Your Home so you can make the most of your decorating efforts.