So, you've come home to a flooded basement – or woken up to one – and you need to know what you can do right this minute to limit the damage. If there is currently water coming into your basement, exercise extreme caution before taking any action. Then, follow these steps to prevent further damage to your home and keep your family safe.
What to Do If Your Basement Is Flooding
Step 1: Make Sure Your Basement Is Safe to Enter
The first step during a basement flood is to assess how dangerous the situation is. If there is standing water in your basement, there is a risk of electric shock if the water is high enough to come in contact with an electrical outlet or wiring.
"If the water in your basement is more than a puddle and water continues to flow in, the first thing you need to do is think about your safety. If you believe electrical appliances or outlets are already underwater and you cannot walk through the basement without coming in contact with water, do not enter the basement. The most important thing to know is that as bad as the problem seems, it can get worse for you if you're not careful."

Paul Abrams | Public Relations Director, Roto-Rooter Services Co.
To see if your flooded basement is safe to enter, check:
Water Depth: If the water is more than 2 inches deep throughout your entire basement, do not step into the water; you could get shocked. Call in a professional to pump the water out as soon as possible. If your main electrical service panel is accessible without entering the basement, turn off power to the basement. If not, contact an electrician to shut off the power.
Submerged Appliances: If the water level in your flooded basement is approaching any gas-fired appliances, like your furnace or water heater, call the gas company and have them shut off the gas. Your pilot light could be out, and gas could be entering your basement. If you smell gas, exit the building.
*All remaining steps assume that the water in your basement is shallow enough to move through it safely*
Step 2: Determine Why Your Basement Is Flooding
Your next step is to determine why your basement is flooding and see if you can stop it quickly. Even if you can't stop the flooding, see if you can figure out where the water is coming from so you can inform your plumber or contractor as soon as they arrive.
Scan your basement and try to pinpoint how the water is getting in. If water is coming into your basement through:
Walls, Floor, Foundation or Windows: This is likely the result of heavy rains and/or a too-high water table. You may have to wait for the weather to change before the water stops rising. If water depth allows for safety, shut off power to the basement in case the water continues to rise, and then start moving your belongings to higher ground.
Floor Drain: This usually indicates that there's a problem with your sump pump or home drainage system, or that there's a backup in the city sewer lines. Your next step should be to find a plumber and get them on-site. If the issue is determined to be caused by the municipal sewer system, call your city's water and sewage department and notify them.
Plumbing or Appliances: Are your pipes or the hoses connected to your washer or water heater spewing water? You've found your culprit. Immediately shut off water to the broken fixture. If you think broken plumbing is the source of the problem, but can't determine which fixture is broken, shut off water to the entire house.
"No matter if the water is coming from a broken pipe, a sewer backup or a storm-related flood, try to determine how you can minimize the water flow, and if necessary and if possible, turn off electricity to the affected area before there is danger of electrical shock or fire. Note that if you have a sump pump, it is electrically powered. If the sump pump is working and there is no danger of the water rising to a level that would create an electric shock hazard, don't shut off the electricity."

Paul Abrams | Public Relations Director, Roto-Rooter Services Co.
If you're experiencing flooding from heavy rains or severe weather, you may be experiencing other issues as well. Check out our Essential Guide to Preparing for Severe Weather for more information on what to do during a storm.
Once you've determined the source of the flooding, and possibly stopped the leak, you can move on to saving items from the flooded basement.
Step 3: Begin Rescuing Belongings
Before you begin rescuing your belongings, move quickly through your flooded basement and unplug all of your electronics. This is an important safety measure to follow, especially if the water continues to rise.
Once you've unplugged everything, start moving your belongings to higher ground. You won't be able to move everything out of the basement, so prioritizing is key.
Prioritize items that will be the most expensive or hardest to replace:
Important Documents: Titles, deeds, passports and financial records.
Family Keepsakes: Heirlooms, photo albums, books and souvenirs.
Electronics: TVs, desktop computers, laptops and other portable electronics.
Finally, work on getting as many of the remaining items as possible to higher ground, or at least stored somewhere higher in your basement.
"Wear gloves and rubber boots if you enter a flooding basement."

Paul Abrams | Public Relations Director, Roto-Rooter Services Co.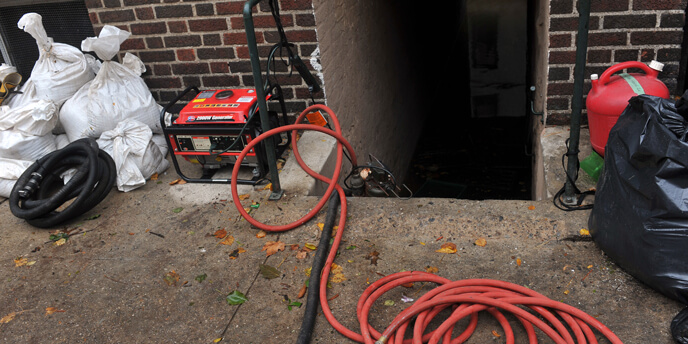 Step 4: Remove the Standing Water
The faster you can start drying your basement after a flood, the less you have to worry about long-term damage to your home. If the standing water in your basement is relatively shallow, go to work with mops and buckets.
If the water is several inches deep, you have a few options:
A Submersible Pump: You can rent or buy pumps at hardware or pool supply stores.
A Wet/Dry Vac: A wet/dry vac might be a better option if you already own one or if only a small area of your basement has deep standing water.
Your basement will still be damp once the standing water is gone.
To help speed up the drying process:
Open any basement windows (if the weather permits) to help the moisture escape.
Set up fans throughout your basement and turn them on high to speed up evaporation. Position them so they're blowing out of the basement, whether through windows or toward the stairs.
Set up space heaters throughout the basement to help evaporate the water faster. Note that this will result in a humid basement environment. It's best to combine this approach with the use of a dehumidifier or two.
Step 5: Begin Cleanup
First, get rid of any ruined belongings. You should not attempt to save:
Electronics that came in contact with the water.
Fabric items that are not washed and dried within 48 hours.
Rugs, carpeting and drywall that have been submerged in flood water.
Upholstered furniture, unless cleaned by an expert.
If you have a lot to get rid of, consider a residential dumpster rental to dispose of your waste. If you're questioning the safety of any item, call in an expert to make sure none of the items you are saving are at risk of growing mold or bacteria.
Next, use warm water and bleach or a cleaning product with a disinfectant to thoroughly clean the walls and floors and any furniture that came in contact with the flood water. Let dry and repeat. Wipe down all exposed areas with a mold control product or make plans to have a restoration specialist visit your home to prevent a mold infestation.
After taking these first steps after a basement flood, you should be well on the way to a dry basement. Now it's time to contact your insurance company and the professionals who can prevent your basement from flooding again, like plumbers and contractors.
Experienced a basement flood yourself? Share your story in the comments. Need to make a few home repairs and improvements? Take a look at our Home Project Guides to learn a few DIY tips.