How to Dispose of Electronics

Getting rid of electronics, like old TVs, computers and cellphones can seem tricky, but there are actually several options for disposal. Many older electronics are still valuable and can be donated or recycled, and if not, there are plenty of options for throwing them away. Use this guide to learn how to dispose of electronics responsibly.
What to Do Before Disposing of Electronics
1. Before throwing away electronics, remove all of your personal information. For computers, follow these steps to wipe your hard drive. For cellphones, follow these steps to delete all personal data.
2. If any of your electronics include rechargeable batteries, remove them before disposal and recycle them separately. Rechargeable batteries contain harmful substances that should not be sent to landfills.

Electronics Disposal Options
Looking to get rid of a pile of old electronics? If recycling isn't an option for your items, there are a few convenient ways to dispose of them. Once you've prepared your electronics, choose one of these options to get rid of them safely: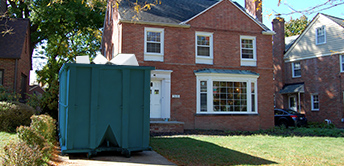 1. Rent a Dumpster
If you're disposing of old electronics as part of a larger home cleanout, renting a dumpster is an economical way to get rid of everything at once. You can toss out old electronics, used furniture and broken knickknacks in one quick cleanup and not have to worry about hauling electronics to an individual collection site.
Benefits
Things to Consider

Choose a dumpster size that fits your project.
Keep on-site for as long as you need it.
Get rid of all your old electronics and household junk in one place.
No need to be on-site for delivery.

Some electronics are not allowed in a dumpster or require a processing fee. Call our team to find out local regulations in your area.
Search for Dumpster Rental Prices in Your Area
or search your city/zip below
---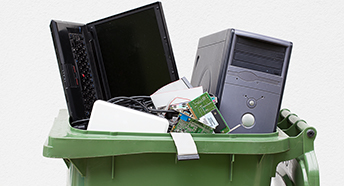 2. Check With Your Curbside Collection Service
If you have just a few electronics to get rid of, you may be able to place them in your garbage can or on the curb for collection. However, some cities ban electronics from area landfills due to the hazardous materials they contain. Double-check the rules in your location.
Benefits
Things to Consider

Low-cost disposal option.
Useful for small amounts of electronics.

Collection may be limited to certain types of electronics or a specific number of items.
Not available in all areas.
You're stuck with your old electronics until your scheduled collection day.
---
3. Find a Local Household Hazardous Waste Facility
If curbside collection isn't an option in your area and you don't have enough junk to warrant renting a dumpster, you might be wondering where you can dispose of electronics instead. The best place to drop off your electronics is at your local household hazardous waste facility where they will be safely disassembled for disposal. Some facilities serve individual cities, while others operate at the county level. Contact your city's public works department or search for a household hazardous waste facility near you.
Benefits
Things to Consider

Low-cost disposal option.
Useful for small amounts of electronics.

Collection may be limited to certain items.
May not be available in your area.
You will have to haul your electronics yourself.

Options for Recycling Your Electronics
Recycling old electronics can help conserve the materials they contain while keeping any hazardous substances out of landfills.
Consider the following options for recycling electronics:
1. Find a Take-Back or Trade-In Program
If you are planning to upgrade your electronics, contact the manufacturer or retailer to find out if they offer a discount or trade-in option for returning an older model. Amazon offers a mail-in option that offers gift cards in exchange for cellphones, e-readers, tablets and Bluetooth speakers.
2. Research Retailer Recycling Programs
Some retailers, including Best Buy, host electronics recycling programs. Call ahead to make sure the location near you is accepting your items and plan to drop them off. Call2Recycle also places drop boxes at retail locations that allow you to recycle cellphones and rechargeable batteries by dropping them off. Not sure how to recycle an old computer? HP offers return and recycling options for a wide variety of electronics and hardware.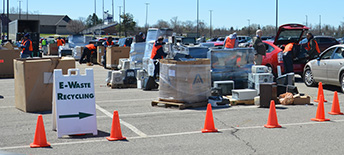 3. Visit a Local E-Waste Collection Event
Municipalities often host events to help residents get rid of old electronics responsibly. Call your city's services department to find out if there is an event being hosted near you. Make sure to ask what types of products are accepted and where to drop off your electronics for recycling.
4. Locate a Local Electronics Recycler
Some recycling facilities specialize in electronics. Use Call2Recycle's drop-off locator to find a center near you that accepts used electronics.
5. Sell Your Old Electronics
If your electronics are still valuable, make plans to sell them on your own instead of throwing them away. Sites like Craigslist, Facebook Marketplace and eBay let you list your items for others to bid on, so you can easily get rid of items without sending them to a landfill.

Options for Donating Your Electronics
Electronics in working condition that aren't significantly outdated can be donated to charity instead of being thrown away. Your electronics can be donated if:
They are less than five years old.
They still function reliably.
They do not require major repairs or replacement parts.
Note that while many charities don't have the resources to repair damaged devices, some that specialize in electronics may accept items in need of repair.
Consider the following options when looking for ways to dispose of electronics through donations:
1. Give Back to Community Organizations
Local schools, libraries and adult education and employment programs often accept used computers and related accessories, while local domestic violence and homeless shelters will occasionally look for cellphones, computers and TVs. If you are getting rid of a functional TV, contact local senior centers or assisted living facilities to see if they are in need of them.
Reach out to your local centers to find out what they need before you drop off any working electronics.
2. Find a National Organization Collecting Electronics
Nonprofits around the country collect used electronics to help them further their missions. From cellphones to computers, use the list below to find a facility that will accept your item:
Computers with Causes: Simply fill out a form on their website to learn how to submit your computers, tablets and related accessories that are less than three years old. Personal information should be deleted prior to donating.
Secure the Call: This nonprofit collects out-of-service cellphones that can be used to call 9-1-1 in case of emergency. Any functional cellphone can be submitted to the program via mail once wiped of personal information.
Goodwill: In some locations, Goodwill accepts computers, cellphones and various electronic accessories including DVD players and stereos. In most locations, TVs are not accepted. To donate, call your local Goodwill and find out what items they accept.
Salvation Army: Call your local facility to find out if they are currently accepting computers, cellphones and TVs. Then, you can arrange drop-off or pickup of your items.
Vietnam Veterans of America: Contact Vietnam Veterans of America to donate working televisions, excluding CRT, DLP and tube TVs. They also accept computers, DVD players, stereos and more. They will work with you to schedule pickup of your items.
Always inquire about your local organization's needs and in what condition they accept items.

Frequently Asked Questions About Electronics Disposal

Have Something Else to Throw Out? Find the Right Guide Below: