If you're hoping to make some extra cash while clearing the clutter from your house, then a garage sale (or yard sale, if you prefer) is likely in your future. Use these tips to learn how to have a successful garage sale that nets you a nice chunk of change while helping you downsize.
Tip 1: Choose the Best Yard Sale Items
It's tempting to simply throw everything you no longer want into the "sell" pile. But the most successful yard sales are those where buyers see the right stuff. Here are some garage sale tips for choosing the best items:
Furniture: Vacuum upholstered furniture beforehand. Buff leather furniture using a mix of vinegar, olive oil and lemon juice.
Tools: Have cordless tools charged up and corded ones within reach of a power strip.
Gently used clothing: Hang up women's and men's clothing. Note the size of kids' clothing on each item and sort appropriately for easy browsing.
Kids' toys: Place these in a bin or lay out on a board over two milk crates.
Smartphones: Within one to two years old, make sure to completely erase the memory.
Exercise equipment: Dumbbells and other basic equipment will go fast, but treadmills and weight lifting machines will vary based on age and price. Include these items in your advertisements.
Jewelry: Hang necklaces from a coat hanger and bracelets on a dowel. Keep your jewelry near your cash box so you can watch over them.
Books: Price each one under $3 and you'll sell every single book you put out.
Appliances: From Ninja Blenders to Slap Chops, you can easily sell modern appliances at a garage sale. Just make sure they're clean and within reach of a power strip.
Pro Garage Sale Tip: Keep fragile items away from the center of your yard sale, such as against a fence or the side of your house, to keep kids from knocking them or the table over.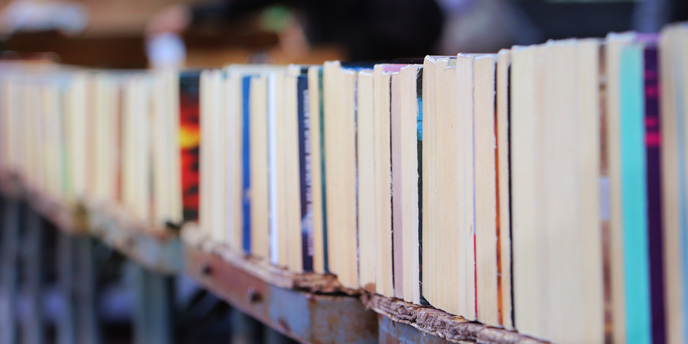 Of course, you can sell other items as well, but these are the ones that will draw big crowds.
Items like shoes, teen clothing (unless they're designer pieces or still have tags), outdated electronics and appliances, souvenir items and college memorabilia generally don't sell well. These items are better off donated so they don't distract buyers from the good stuff.
Finally, there are some items that should really just be thrown out or recycled. These include:
Outdated technical books or manuals
Magazines and newspapers
Incomplete games and puzzles
VHS and cassette tapes
Stained or torn clothing
Anything broken
Once you get rid of the junk, it will be easier to sort the remaining items between the best stuff for the yard sale and potential donations.
Tip 2: Learn How to Price Your Yard Sale Items to Sell
It's a tough garage sale tip to follow, but the best prices are low and consistent. After all, this isn't an auction. The goal is to sell as many of your things as possible while you can. When pricing yard sale items, keep these tips in mind:
Don't be greedy: Don't try to make back what you originally paid for something – or even half that. Remember: whatever doesn't sell will be given away for free, so any money you make is a win.
Cap prices at $5: Aside from items such as furniture, power tools or high-quality jewelry, most people won't pay more than $5 for something at a yard sale. So, price your best items (outside of those special cases) at $5 and work backwards from there.
Give similar items the same price: Pricing all toddler clothes at one dollar (for example), all books at 25 cents and so on will make things easy for both you and your buyers. However, it's fine to make exceptions for items that are significantly better in quality or condition than others in their category.
Don't haggle over the little things: Buyers expect to haggle over expensive items, but for anything under a dollar, it's not worth risking the sale.
Tip 3: Make Your Garage Sale Enticing (and Legal)
You know what you're selling and for what price — now it's time to figure out how to organize your yard sale for the best results.
Learn the rules: Some cities require permits for yard sales or have rules about where you can place signs. Do things by the book to avoid having your sale shut down.
Use smart signage: Signs should be simple and easy to read. All your sign needs to say is "Yard Sale" with an arrow and your address. Use large letters and a bright background color. Place signs at all major intersections around your neighborhood.
Pro Garage Sale Tip: Advertise your garage sale online (Craigslist, Facebook) and in your local newspaper (local papers usually charge $15 or less). Make sure to include any big-ticket sale items, as well as your address and the dates and times of your sale.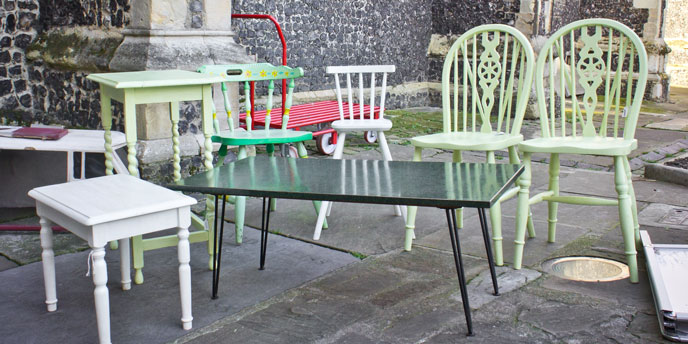 Group items by category: When items are laid out haphazardly, buyers often feel overwhelmed and leave. Help people find what they're interested in buying by putting all your kids' items in one spot, all your furniture in another spot and so on.
Let buyers test appliances: Buyers often pass on appliances because there's no guarantee that they work. Run an extension cord out to your appliance section so people can test them. This is an easy way to make more sales and clean out more clutter.
Tip 4: Get Your Supplies Ready and Prepare to Haggle
On the day of your garage sale, you'll need to have all of the following handy:
Change
Cash box or apron
Chairs
Tables
Milk crates & boards
Garment rack
Clothes hangers
Price tags or stickers
Extension cords
Pro Garage Sale Tip: Keep fives, ones and at least $20 worth of quarters on hand for making change.
Take your time setting up your tables and yard sale items, then take a break an hour before the sale starts. Find a nice shady spot to sit in and let customers come up to you in their own time. It's best to let them browse on their own rather than working the sales floor, sort of speak.
As soon as you start getting offers on the bigger items, use these haggling tips to get the best price:
Use Your Poker Face: If a customer shows real enthusiasm for something, odds are they'll pay full price for it. Stand firm and show your confident in your asking price.
Don't Take the First Offer: The first offer you get for your couch will probably be a low ball, so don't make the mistake of shaking on it. Entertain other offers before selling any of your big-ticket items.
Inject Some Humor: A smile and a couple of jokes can go a long way towards putting your potential buyer at ease, making it that much easier to seal the deal.
Pro Garage Sale Tip: Remember to collect your yard signs once your sale is over to avoid potential citations or a stern warning letter from your HOA.
Ready, Set, Sell!
By choosing the best items and prices for your yard sale, organizing it in the smartest way and haggling where necessary, you'll have the most successful yard sale in your neighborhood.
Doing some spring cleaning? If you end up with lots of items that just aren't yard sale-worthy, consider renting a dumpster for affordable junk removal.