If you're hoping to make some extra cash while clearing the clutter from your house, then a garage sale (or yard sale, if you prefer) is likely in your future. Use these tips and tricks to learn how to have a successful yard sale that nets you a nice chunk of change while helping you downsize.
---
How to Prepare for a Garage Sale
1. Collaborate with Others
Recruit your siblings, neighbors or friends to help you with the sale. The more hands on deck, the smoother things will go. You can also invite your volunteers to sell their own items, so you can advertise as a multifamily sale and they can get rid of their clutter. This broadens what you have to sell and is more attractive to buyers. It's a win-win for everyone.
2. Set a Date and Time
If you have the endurance (and the help), a Friday and Saturday sale is usually a hit. Make sure to start early, around 7 a.m. to allow people to stop and browse on their way to work and wrap up around 1 p.m. in the afternoon, or extend until 2-3 p.m. and offer drastic markdowns if it's the last day.
"Timing is everything! For a successful garage sale, the best time of year is spring. People love to garage sale shop during spring because they are itching to get out of their house, freshen up their homes, open their windows and breathe in fresh air. It's a great time of year for people to decorate their homes, and what better way to decorate than to find one of a kind items for a fraction of the price at their local garage sales?"

Allison Hepworth | House of Hepworths
3. Check the Weather
Once your dates are set, make sure to keep an eye on the weather and have a backup date just in case. Creating a rain plan is a good idea in case the weather seems like it could go either way; it's better to be prepared, and have certain items on hand. If you have space in your garage, you can move your tables and racks inside or set up pop-up canopy tents for additional shelter. You can also use clear tarps to cover tables that don't make it under cover.
4. Spread the Word
Once you've set a date and a backup plan for your garage sale, it's time to let everyone know about it. "Advertising is key for a successful garage sale," says Allison Hepworth of House of Hepworths. "Advertise a few days in advance on your local neighborhood and community Facebook groups, post on your personal Facebook page, and ask your friends to spread the word."
Other Tips for Garage Sale Advertising
Advertise your garage sale online on platforms like Craigslist, Facebook, or in your local newspaper (local papers usually charge $15 or less).
Include any big-ticket sale item photos in ads, as well as your address and the dates and times of your sale.
Garage sale signs should be simple, easy to read and be uniform in design and color. Use bold, large letters and a bright background color.
If rain is in the forecast, make sure you laminate or cover your signs with waterproof packing tape so they hold up.
If your home isn't on the busiest street, make sure to place your signs at nearby busy intersections so you can still get a lot of eyes on the details of your sale.
If you're working together with other families to sell your items, choose the busiest neighborhood to have the sale in.
"The morning before, spread a few signs around your neighborhood at prominent locations. You can use traditional phrases like, 'garage sale' or 'yard sale', but you can also get more creative with your signs to peak people's interest. A few funnier ones I've seen are 'hoarder sale', 'junk sale', 'moving sale', 'divorce sale', etc. Creating unique signs is a way to draw people to your home."

Allison Hepworth | House of Hepworths
5. Gather Your Garage Sale Supplies
On the day of your garage sale, you'll need to have all of the following handy:
Cash box or apron
Calculator
Chairs
Tables (as many as you can find!)
Milk crates & boards
Garment racks
Clothing hangers
Price stickers and "sold" signs
Extension cords
At least 2-3 volunteers on board to help each day of the sale
Pro Garage Sale Tip: Keep fives, ones and at least $20 worth of quarters on hand for making change.
---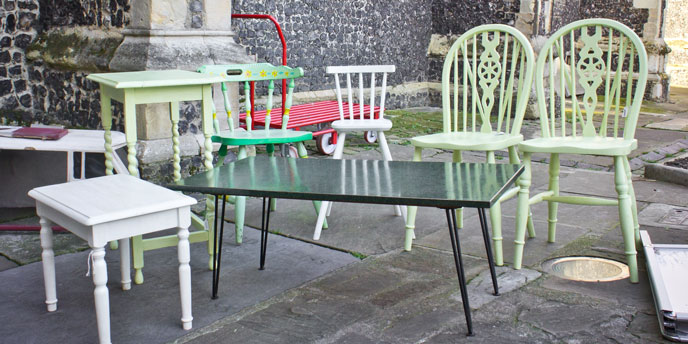 ---
What to Sell at a Garage Sale
It's tempting to simply throw everything you no longer want into the "sell" pile. But the most successful sales are those where buyers see the right stuff.
If you end up with some more high-end items you want to part with, try selling them on eBay or Craigslist prior to your sale. This can help you keep your prices similar across the board at your actual sale. If they do not end up selling online, you can put them out at your sale, but be prepared to end up haggling the prices.
These are some of the best things to sell at a garage sale, and how to display them to make them appeal to your customers:
Bundle it up: "Bundle" items such as baby onesies of the same size or style, DVD collections and book collections together when you can.
Furniture: Vacuum upholstered furniture beforehand. Buff leather furniture using a mix of vinegar, olive oil and lemon juice.
Tools: Have cordless tools charged up and corded ones within reach of a power strip so they can be tested.
Appliances: From Ninja Blenders to Instant Pots, you can easily sell modern appliances at a garage sale. Just make sure they're clean and within reach of a power strip to be tested. Include owner's manuals or direction booklets when possible.
Gently used clothing: Hang up freshly washed and dried clothing on garment racks. Pick 10-15 really nice pieces to display at a time. Note the size of clothing on each item and sort appropriately for easy browsing. For baby and children's clothes, add size separators so each age group of clothing is easy to locate.
Kids' toys: Display on a table or lay out on a board over two milk crates. Throw away any games, puzzles or toys with missing pieces or that are broken.
Smartphones: Old smartphones should be within one to two years old. Make sure to completely erase the memory or do a factory reset before selling.
Exercise equipment: Dumbbells and other basic equipment will go fast, but treadmills and weight lifting machines will vary based on age and price. Include these items in your advertisements or try to sell online first.
Jewelry: Hang necklaces from a coat hanger and bracelets on a dowel. Keep your jewelry near your cash box so you can watch over them.
Books: Make sure they are easily sortable, reasonably priced and in good condition. You can bundle some children's books together based on topics or series. Whatever you don't sell, you can donate.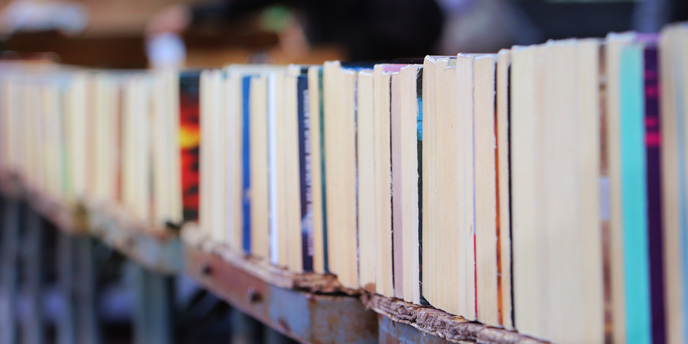 Pro Garage Sale Tip: Keep fragile items away from the center of your yard sale, such as against a fence or the side of your house, to keep kids from knocking them or the table over.
---
What Not to Sell at a Garage Sale
Items like shoes, teen clothing (unless they're designer pieces or still have tags), outdated electronics and appliances, souvenir items, holiday decor and college memorabilia generally don't sell well. These items are better off donated so they don't distract buyers from the good stuff – just make sure your local Goodwill can take them before dropping them off.
Finally, there are some items that should really just be thrown out or recycled. Here's some stuff you can get rid of ASAP:
Outdated technical books or manuals
Magazines and newspapers
Incomplete games and puzzles
VHS and cassette tapes
Stained or torn clothing
Anything broken
Once you get rid of the junk, it will be easier to sort the remaining items between the best stuff for the yard sale and potential donations. If you're having trouble decluttering your garage or attic and aren't sure what items to sell, donate or keep, consider whether the item is useful and in working order. If not, it's time to let it go.
"If you happen to have baby items to sell, make sure to research recalls. The last thing you should ever do is sell something that has been recalled or could potentially be dangerous to the next owner."

Tracie Fobes | Penny Pinchin' Mom
---
How to Price Garage Sale Items
It's a tough garage sale tip to follow, but the best prices are low and consistent. After all, this isn't an auction. The goal is to sell as many of your things as possible while you can.
When pricing yard sale items, keep these tips in mind:
Don't be greedy: Keep your prices reasonable. Remember, you are pricing to sell.
Don't price your items based on purchase price or sentiment: Even if you paid a high price for an item, the customer will still see it as used. If it feels valuable to you or holds important memories, maybe consider keeping it instead of selling.
Use different color pricing stickers: Make sure to differentiate pricing stickers for each family who is selling items at your sale to keep track of how much everyone earns.
Don't haggle over the little things: Buyers expect to haggle over expensive items, but for anything under a dollar, it's not worth risking the sale.
"When you get into the final two or three hours of the sale, put up a sign that says everything is 50% off. It will help you clear out a few more items and you'll have less to deal with.  If you can't find anywhere to take your items, post them for free on an app such as LetGo. You would be surprised what people will come take away when it is free!"

Tracie Fobes| Penny Pinchin' Mom
Pro Garage Sale Tip: Accepting a variety of payments forms means you'll be guaranteed to sell more. Many people don't carry cash or have to pass on buying all the items they are interested in because they don't have enough money on them. You can use the Square card reader, which is compatible with most Apple or Android devices, or services like PayPal or Venmo.
---
Tips for Having a Successful Garage Sale
You know what you're selling and for what price — now it's time to figure out how to organize your yard sale for the best results.
Learn the rules: Some cities require permits for yard sales or have rules about where you can place signs. Do things by the book to avoid having your sale shut down.
Group items by category: When items are unorganized, buyers often feel overwhelmed and leave. Help people find what they're interested in buying by putting all your kids' items in one spot, all your furniture in another spot and so on.
 Let buyers test appliances: Buyers often pass on appliances because there's no guarantee that they work. Run an extension cord out to your appliance section so people can test them. This is an easy way to make more sales and clean out more clutter.
"If you want to get more sales, you need to set things up like a store. When you shop at your favorite discount store, you go to a specific section to find things. Set up additional tables and group like items to together."

Tracie Fobes | Penny Pinchin' Mom
Pro Garage Sale Tip: Remember to collect your yard signs once your sale is over to avoid potential citations or a stern warning letter from your HOA.
---
Ready, Set, Sell
By choosing the best items and prices for your yard sale, organizing it in the smartest way and advertising it well, you'll have the most successful yard sale in your neighborhood.
If you have still have some bulky items left from your garage sale that didn't sell or weren't in working condition to price, take a look at our bulk waste disposal guides to see how to legally and safely get rid of them: