As you head towards retirement age, you're probably getting excited about investing more time in your hobbies and spending afternoons with your grandkids. But have you pictured where you'll be living? Staying at home is a more familiar and comfortable option to most as opposed to moving to an assisted living facility, so we've come up with some tips to help you remodel your home with aging in place in mind.
Though some seniors still choose retirement homes, more and more people are instead opting to grow old at home, or age in place. In fact, only about 3 percent of senior citizens live in nursing homes, according to the 2010 U.S census. Not only is remodeling your home with an aging-in-place design a cheaper option, but it also ensures your home will meet your changing needs as you age, allowing you to maintain your standard of living.
What Is Aging in Place?
Aging in place means continuing to live in your own home as you get older for as long as your health and other factors allow. This means anticipating how your needs may change as you age and making home modifications to help meet your goal of aging in place, creating an environment capable of accommodating any changes. Use the aging-in-place design ideas below to identify essential areas of your home to remodel or alter so that you can continue to live in your house for years to come.
High-Priority Projects for Aging at Home
It's important to create a home that is functional for you now and as you continue to age.

"Think of universal design, remodeling so that it works for anyone – elderly, disabled or otherwise."

Mike Foti | President, Innovate Building Solutions
1. Bathroom
Bathrooms are an important starting point when considering aging-in-place remodels for your home. If you only have the ability or money to focus on one room, make it the bathroom. The shower especially has the potential to create a lot of accidents, from slipping on wet surfaces to tripping over the bathtub or shower curb. Consider making the following changes to your bathroom:
Curbless shower: Also known as a wet room, a curbless shower eliminates any barriers to getting in and out of the shower. It's easy to walk or wheel right in, meaning there's less potential for an accident. Check out our DIY guide on converting a bathtub into a walk-in shower.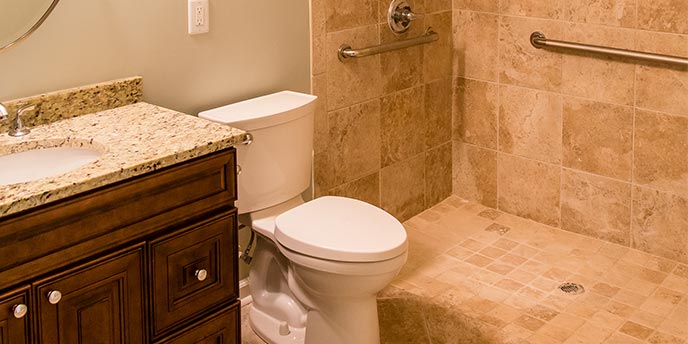 Non-slip floor covering: Installing a non-slip floor covering – whether that be a mat, a particular type of flooring or a coating product – is essential to prevent slipping and falling in the shower.
Roll-under sink: If you use a wheelchair, installing a roll-under sink will make it easier for you to roll right up to the sink and reach the entire surface of the counter. It will also eliminate the possibility of running into cabinets.
Hand rails: Adding hand rails in the shower will reduce the chances of falling.
Waterproof laminated wall panels: Anything that requires little to no maintenance to maintain upkeep is a plus as you get older. Waterproof laminated wall panels that look like tiles will eliminate the need for scrubbing. All they need for a good clean is warm water on a clean cloth.
2. Kitchen
"The kitchen is the hub of most families, so it's important to focus some attention on this room. Being able to cook for yourself as you get older is important."

Mike Foti | President, Innovate Building Solutions
Wider alleys and walkways: This will give you more space to move around the kitchen.
Pull-out countertops: Having a surface to pull towards you will make prepping for meals a lot easier. It will require less reaching, especially if you use a wheelchair.
Remote-control range hood: This will allow you to control the fan without having to reach up.
Roll-under sink: This will give you room for your wheelchair, or simply free up the area for your convenience.
Roll under cooktop: Like a roll-under sink, this will give you space to roll up to the stove in a wheelchair and help you avoid dinging your cabinets while cooking.
Moving the microwave down: Keeping the microwave below the countertop will get rid of the need to reach up and bring it closer to you if you're in a wheelchair.
Smooth cooktop: A smooth cooktop with a roll-out stool will make it easier to move hot items off the stove. Also consider installing a cooktop that allows you to slide dishes onto it directly from the counter.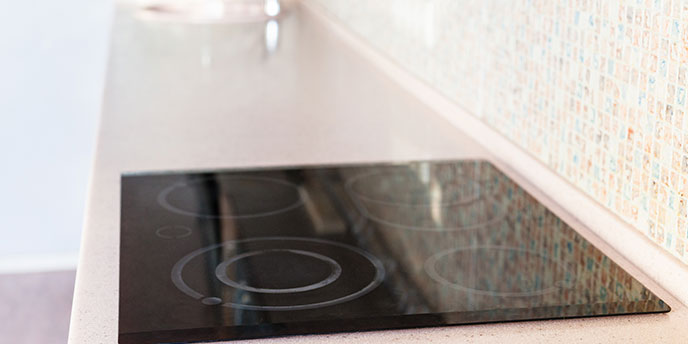 Wall oven: This will make the oven accessible to both someone in a wheelchair and someone standing. A wall oven with pull-out counter space will make it easier to transfer dishes in and out.
3. Entryways
Incorporating a barrier-free design into your home's entryways will make it easier to get in and out of your house. Here's how to do it:
Replace steps with ramps.
Ensure at least one ramp into your home is covered for protection against the elements.
Widen narrow doorways and hallways to accommodate mobility aids like a walker or wheelchair.
4. Throughout the House
Pull-down and pull-out shelves: These will make it easier and less dangerous to access anything that may be too high or too far to reach.
Outlets and light switches: Outlets should be moved up and light switches should be moved down so they are easier to access from a wheelchair and require less bending.
"Anything that can come to you versus you going to them will be beneficial. For example, cabinets that you can pull down to you in order to minimize having to reach up and over or use a ladder to reach will be better and safer."

Mike Foti | President, Innovate Building Solutions
Do Your Homework
Researching products and contractors before making home modifications for aging in place is strongly encouraged. Mike Foti with Innovate Building Solutions says finding a contractor who is a Certified Aging in Place Specialist (CAPS) is ideal. These contractors will know the best aging-in-place products to use and the best way to incorporate them into your home remodel. If you can't find a contractor who is trained in universal and accessible design, find someone who is willing to make the modifications you need.
Foti also recommends doing your own research on aging-in-place designs and products, because you can't assume the contractor will.
"Sometimes you have to sell the contractor on using a product or remodeling a certain way and explain why you need it. They might not know how it would work or how to install it, so they might not want to waste their time and money potentially installing it the wrong way."

Mike Foti | President, Innovative Building Solutions
Making plans for aging at home is the best way to ensure you'll be able to maintain your independence and continue living in the comfort of your own home for as long as your health allows. And once the work starts, we can make cleaning up all your remodeling debris easy with a dumpster rental.