Learning how to remodel a kitchen is a rite of passage for many homeowners, especially considering it's the second most popular remodeling project after bathrooms. Like a bathroom remodel, a major kitchen remodel requires careful planning and a big helping of patience to get through the disruption of not having a working kitchen, as well as the financial and logistical hoops one must jump through to get the project finished. But do not despair, for a major kitchen remodel is totally doable. All you have to do is stick to these seven steps and you'll learn how to remodel a kitchen on a budget of any size.
Step #1: Gather ideas for your kitchen remodel
The first step is the easiest step. Fire up your favorite browser and peruse your favorite Pinterest boards and home improvement sites and start hitting that save button. Cast a wide net of examples of other people's kitchens to develop your own ideas for your remodel.
Cultivating a broad range of layouts and design ideas is essential to identifying the fixtures, textures, and materials you want in your new kitchen. You should also consider how your kitchen will be used and whether your new design will fit within the existing floorplan.
Step #2: Create a budget
Once you have a fat stack of ideas sitting in a folder, it's time to start crunching numbers. Do a little research to come up with a solid foundation for a budget. Don't worry so much about getting the right number down on paper. It's hard to determine just how much something will cost this early in the process, but establishing a budget ceiling now will allow you to start getting in touch with professionals.
Step #3: Call in the pros
There's a professional out there for just about every facet of a major kitchen remodel, from granite countertops to custom kitchen cabinetry to managing the entire project itself. Your task is to use your friends, colleagues, and good old research to find the best professionals to realize your unique designs. A good place to start is to visit big-box stores and showrooms to get a look at every material available to you, and possibly pick up a few referrals along the way.
Step #4: Sketch it out
Now is the time to draw up the schematics of the remodel. Your main focus should be on space planning, figuring out the layout of the room as opposed to the looks. This is crucial in order to nail down where your kitchen island will be situated, how far apart your cabinets are spaced out, and other issues of a geometric nature. It will also provide you with the scope of the work to present to potential contractors who in turn will be able to give you ballpark estimates for the work ahead. Once you have the schematics in hand, you can then start finalizing the look of the kitchen.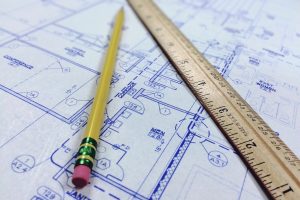 By this time, you should have loads of ideas and photos saved up in a folder on your hard drive. Now is the time to use those photos to decide on the overall theme and design of your kitchen, whether it's dominant material is sleek steel or the rustic color of natural wood. Other elements such as light fixtures, countertops, sinks, appliances, backsplash and flooring should be decided by this point as well.
Step #5: Get estimates from contractors
Assuming you haven't reached out to a licensed contractor yet, you should do so once the schematics and overall design are finalized. A good rule of thumb is to get at least three different estimates that include timetables for completion. Do a walk-around with each prospective contractor to go over every aspect of the remodel and to get a sense of whether you may need to add or subtract from your budget.
However, even if you are aiming for a cheap kitchen remodel, you should never take the low-ball bid. Low estimates indicate that the contractor may be desperate for work and/or plans on using low-quality materials. Once you've picked a contractor for your kitchen remodel, draw up a contract that outlines the scope of the work and establishes a payment schedule. The normal payment schedule provides 10% upfront, 25% at three-stage intervals throughout the project, and the last 15% upon project completion. You can find a good example of what a contract should entail here.
Step #6: Demolition day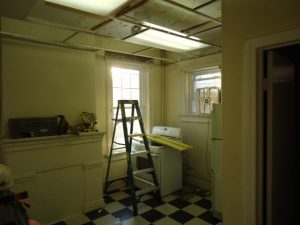 The paperwork has been diligently perused and approved, the design is finalized, and the crew is ready to start tearing down the kitchen. Some homeowners may choose to leave their house once the kitchen demolition starts, but others will opt to remain in the home. If you choose to do so, there are some things you need to plan ahead for:
Set up a temporary kitchen in another room of the house.
Make sure you have space for preparing small meals.
Bring only the essential appliances you need for cooking (no waffle irons).
Use a mini-fridge to store perishables.
Stock your pantry with paper plates, plastic silverware and cups.
Keep non-perishables like peanut butter, crackers, and snack bars handy.
Step #7: Check the work
Once the dust has settled, check out your newly remodeled kitchen and check off the items that are complete, and the others that still need attention. Everything that was agreed to in the contract should be fulfilled according to your specifications before your contractor receives final payment.
After your punch list is complete, you can finally move your appliances back where they belong and resume a normal routine. If you have any debris leftover from your kitchen remodel, be sure to grab a construction dumpster to make light work of your heavy debris. And if you need any more remodeling tips, use these DIY remodeling how-to's from The Exceedingly Comprehensive Guide to DIY Home Improvement to guide your way. Or if you're looking for some ways to save, check out our short guide on budget kitchen remodels.
Featured Image: Remodel Works, CC by 3.0