The kitchen is said to be the heart of the home.
It's where we eat. It's where we talk. It's where we laugh.
Basically, it's an integral part of our home.
In fact, when it comes time to sell, the kitchen can give you a favorable return on your investment. This is especially the case if your kitchen is up-to-date with stainless steal appliances, proper lighting, the right color scheme, and anything else that gives off a more modern look.
Quite frankly, the avocado green and sunshine yellow color palette of the '70s isn't exactly "in" anymore. The same goes for white laminate cabinets of the '80s.
Oh how far we've come with our kitchen makeovers. It just comes with the territory of kitchen remodeling.
Why?
Well, because kitchen remodeling trends are like fashion – they're never finished. They're ever-changing. Each year that passes there's going to be new ways to tackle kitchen renovations. This year is no exception.
Here are some modern kitchen remodeling trends anyone can achieve to turn an ordinary kitchen into the kitchen of their dreams.
Maximize Kitchen Storage
Having a place to store everything in your home is the key to organization. That includes the kitchen.
In fact, the kitchen is probably the one room we want can't afford to be unorganized because we use it more than any other room in our home. Even if you don't consider yourself much of a cook, you likely have a lot of stuff in your kitchen – cookware, food, small appliances, spices, utensils, and more.
The challenge is finding a home for all that stuff.
One way of doing that is maximizing your kitchen storage. This can be accomplished by incorporating a pullout system into your cabinetry. Not only will this free up some counter space, but it will also make your life easier when you need a pot or pan. Other ways to maximize kitchen storage include:
Corner cabinets or Lazy Susans
Multi-tiered drawers
Rollout trash bins
Hardwood Floors
Hardwood flooring is one of many kitchen trends gaining popularity. A lot of newly constructed homes opt for hardwood floors because they're more modern and they make the home look more appealing. Although it's one of the more expensive types of flooring, wood flooring is long-lasting and easy to clean. It's also easier on your feet and warmer on your feet as opposed to tile flooring. So, spruce up your kitchen remodeling with hardwood floors!
Open Floor Plan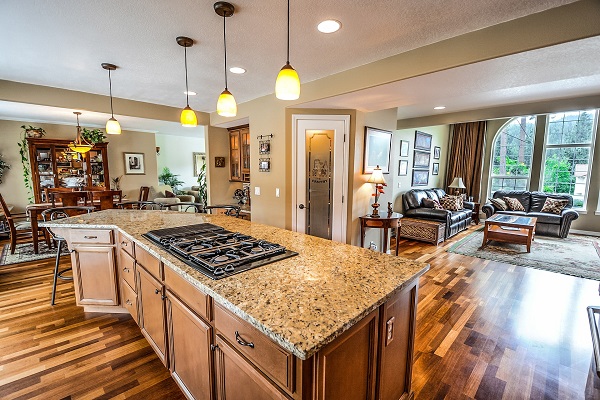 Do you feel as if your kitchen is disconnected with the rest of your home? If so, you may want to consider converging the kitchen with your home's primary living space – the living room.
For a long time the kitchen was strictly a workplace. That's not the case today, at least not with an open kitchen.
Open kitchens are better for entertaining, allowing you to interact with guests while cooking dinner at the same time. If you're a multitasker, an open kitchen may be for you. This kitchen trend has become the go-to kitchen style, especially for families.
Kitchen makeovers never looked so good with an open floor plan.
White, Gray, and Neutral Colors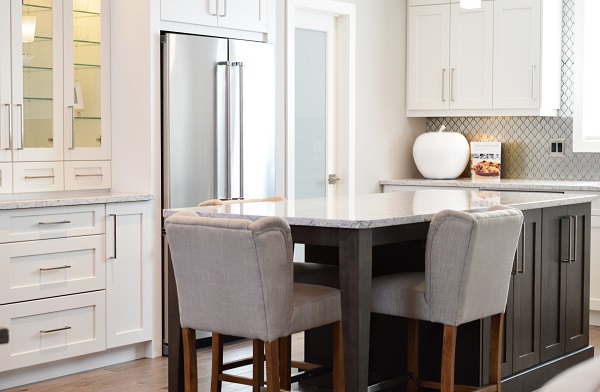 Instead of having just an all-white kitchen, consider mixing in gray and other neutral colors to give your kitchen a nice blend. Doing this is sure to make your kitchen pop. A lot of homeowners are choosing a gray and neutral color palette that work well with a variety of design elements as part of their kitchen remodeling. While white kitchens reign supreme and are the safe bet, gray and neutral colors are a nice compliment.
Well-lit Cabinetry
Let there be light! Good lighting is a must-have in the kitchen. After all, you're dealing with food and cookware. A trend that is popping up in kitchens is cabinetry lighting. This can be lighting above the cabinets, below the cabinets, or inside the cabinets. Lighting below the cabinets, such as light tape strips, make it safe for handling food, sharp knives, and other kitchen tools.
Dumpsters Are Trendy, Too!

When you're ready to say goodbye to the old and hello to the new, call Budget Dumpster at 1-866-284-6164.
Our residential dumpster rental is perfect for disposing all that leftover debris as you make room for these modern kitchen trends. Our dumpsters can handle all types of projects, including home improvement projects such as kitchen remodeling.