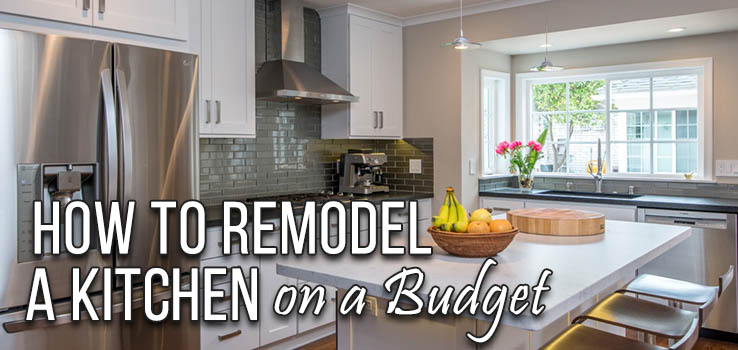 The Beginner's Guide to Remodeling a Kitchen on a Budget
Budget Kitchen Remodeling Tips for New Homeowners
Remodeling a kitchen is both exciting and expensive; exciting because it's a chance to dramatically improve the look of your home, yet expensive because of all the little (and big) things that need to be replaced and updated. According to Home Advisor, the average minor kitchen remodel costs a staggering $20,301 - about the same cost as a Honda Civic. A total kitchen remodel can cost more than double that, with an average price tag of $50,000.
Putting down that much money on a new kitchen is well worth it for some. But for others, putting their kitchen remodel on a budget will be more important than splurging for the most precious materials. In order to do that, you need to know two things: where to start and where to save. In this guide we'll show you how to remodel your kitchen from beginning to end, and point out the best places to save along the way.
Step #1: Rough-in Work
The first step in remodeling a kitchen, after demolishing your old one, is to get all the rough-in work completed and inspected. Rough-in work is a trade term for getting all of your plumbing, electrical and other utilities hooked up before sealing up all the pipes, wires and ducts behind your new walls.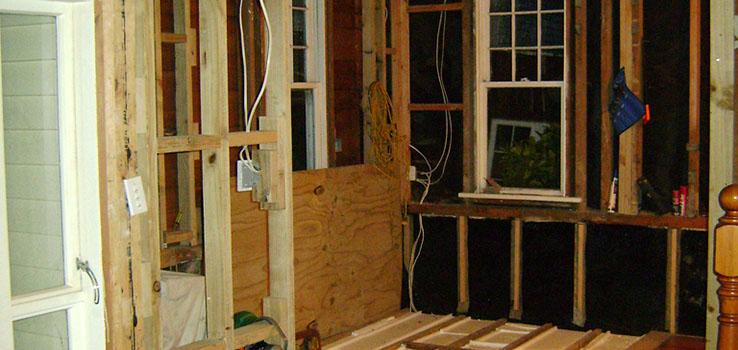 Rough-in work ensures your utility lines – electric, gas, plumbing – are right where they need to be for your new appliances.
This is the time to make all of the necessary modifications to the utility lines running through your kitchen. If you want a new outlet installed by the sink, or if you want to move your fridge to a different corner of the room, you'll have to run new electrical wiring through the frames in order to accommodate these changes.
Budget Kitchen Remodeling Tip #1: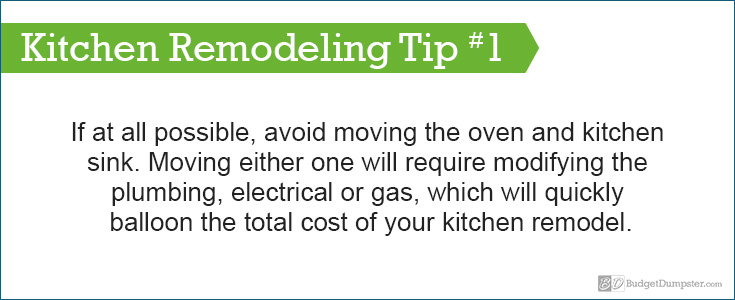 If you don't have any experience with plumbing or electrical work, its best to consult a licensed contractor to take a look at the existing utilities, make any necessary changes and ensure that all the new work is up to code. This is important because you won't be able to proceed with remodeling your kitchen without passing a code inspection by the local building inspector.
Step #2: Install Your New Walls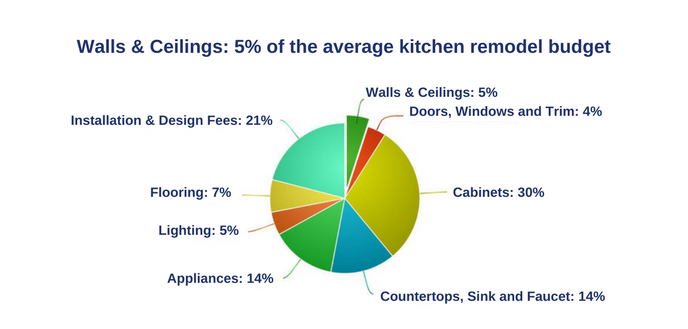 After passing inspection, you should be all clear to install new drywall over your exposed joists. The easiest, and most obvious, way to save money at this stage is to install the drywall yourself. The average cost of having your drywall done by a contractor is around $1,600, a large portion of which goes towards time and labor.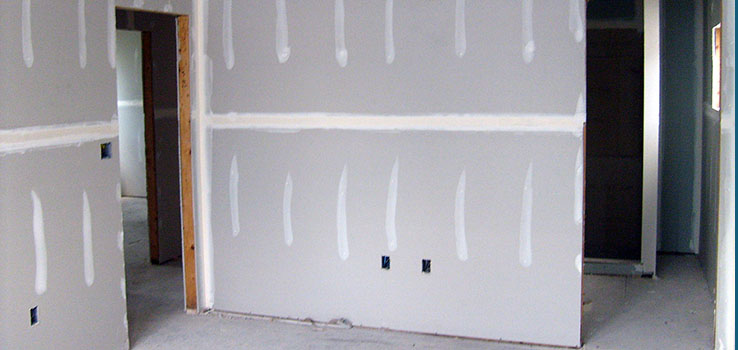 Installing new drywall can be time-consuming, but doing it yourself will save you a ton on labor costs.
You could save roughly half that amount by using your own crowd-sourced crew: your friends and family. Of course, your own costs will vary based on the size of your kitchen and the cost of your materials. But by substituting actual labor expenses with beer and pizza, you'll come out far ahead in the kitchen remodel game.
Budget Kitchen Remodeling Tip #2: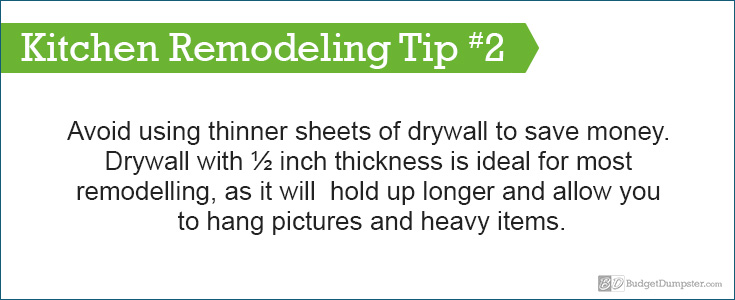 Step #3: Install Doors, Windows and Trim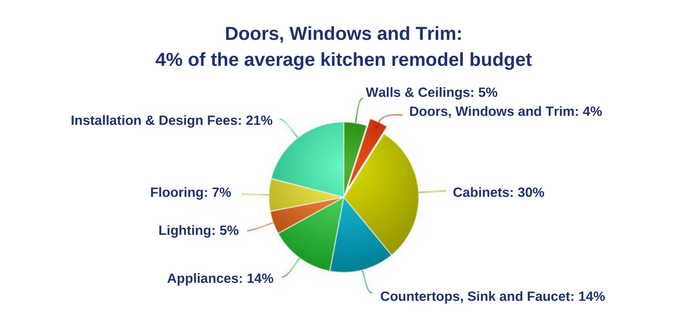 Once the walls are up, it's time to install the doors, windows and the trim that will frame each opening. Installing these now will allow you to see if you need to adjust the positions of cabinets or appliances to account for the finalized dimensions of your doors and windows.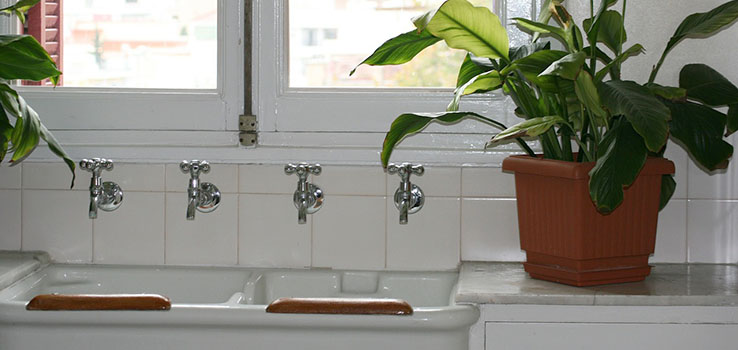 Installing your doors and windows first will allow you to work around their dimensions when installing new appliances.
Use traditional trim if you are not confident enough in your woodworking skills to make the wider miter cuts required of modern "picture frame" trim. You'll be able to make your doors and windows look fancy without ending up with a large "mistakes" pile.
Budget Kitchen Remodeling Tip #3: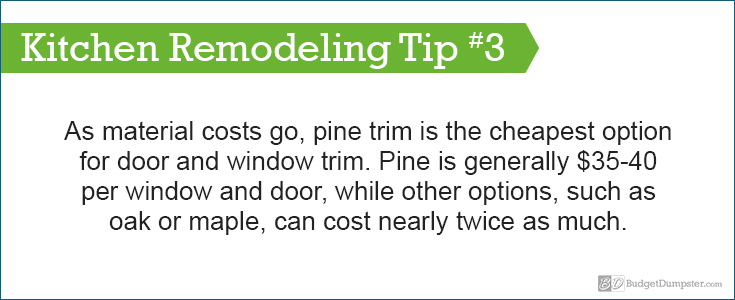 Step #4: Install Cabinets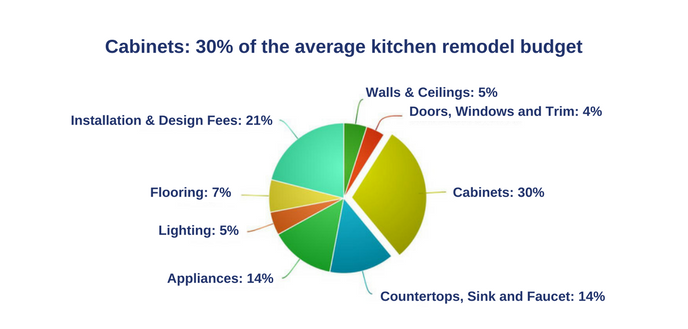 With the doors and windows in place, you can now get to the fun part: installing your cabinets. The best way to start is to get your wall cabinets hung first. That way you won't be reaching over your bottom cabinets while working.
Budget Kitchen Remodeling Tip #4: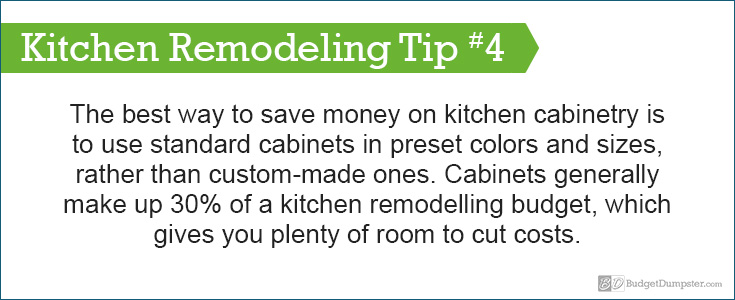 Next come the base cabinets, which should be easier to install since you won't have to hold up and secure each box. Remember to leave a space between the cabinet and the wall according to the cabinet maker's instructions.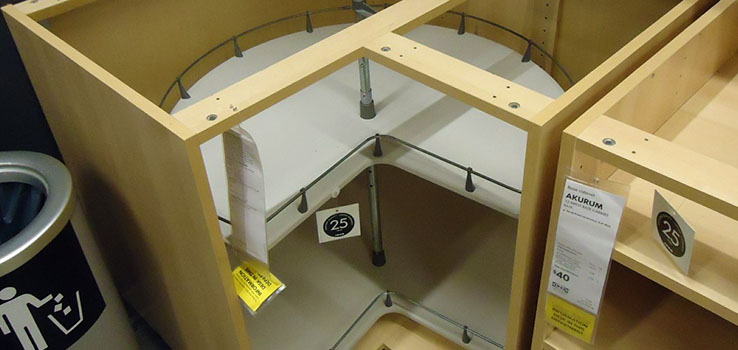 While they are nice looking, custom cabinets, such as a lazy susan, can significantly add to your budget.
Of course, just because you are redoing your kitchen doesn't mean you have to redo your cabinets. You can save a significant chunk of change by keeping your current cabinets and giving them a simple facelift instead, as Tess Moody of the Six Feet Under Blog explains:
Step #5: Install Countertops, Sink and Faucet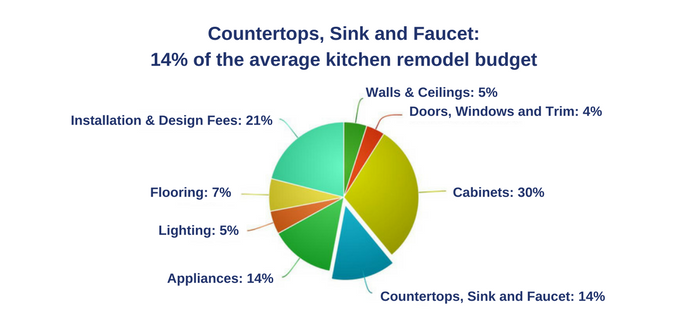 Learning how to renovate a kitchen requires equal parts research and heavy lifting, as you'll quickly learn as you begin to install your countertops. Most countertops can be installed by your average DIY enthusiast, but if you are looking at stone countertops it is almost always better to have a professional installer do it for you. The weight of the stone slabs, coupled with the tooling needed to shape them, makes this a very DIY-unfriendly project.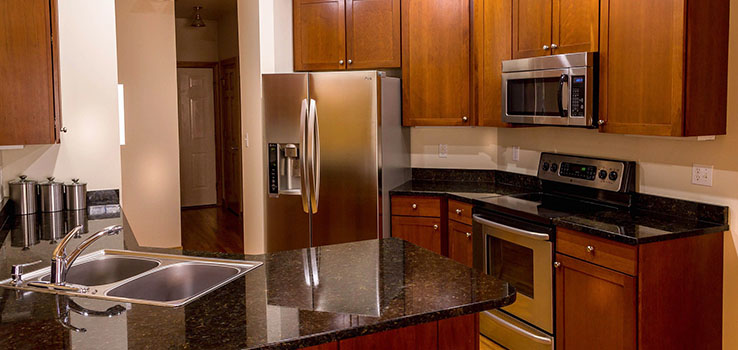 Countertops are made with a variety of materials, from low-cost laminate to expensive granite.
If, however, you decide to go with tried-and-true laminate or wood countertops, you can save a ton on material costs. And if you install them yourself, you can save on installation fees as well. Even though laminate countertops are easy to work with, there are still quite a few steps to follow when installing a new countertop. Here is just one of many guides you can find online for installing countertops.
Budget Kitchen Remodeling Tip #5: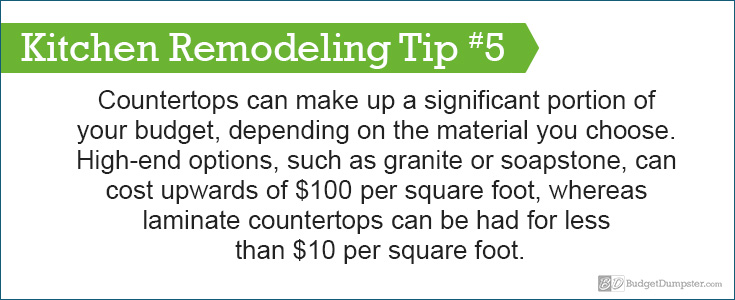 If you are on a tight budget and don't like the look of laminate countertops, consider following Audrey Kuether's (Oh So Lovely) tip for converting existing countertops into concrete ones:
As for the sink, your options are even more vast, with everything from stainless steel to fireclay to copper on the table. The most common choice is stainless steel due to its durability, looks and relatively low price. Here's a quick chart comparing prices and the relative advantages of each kitchen sink option: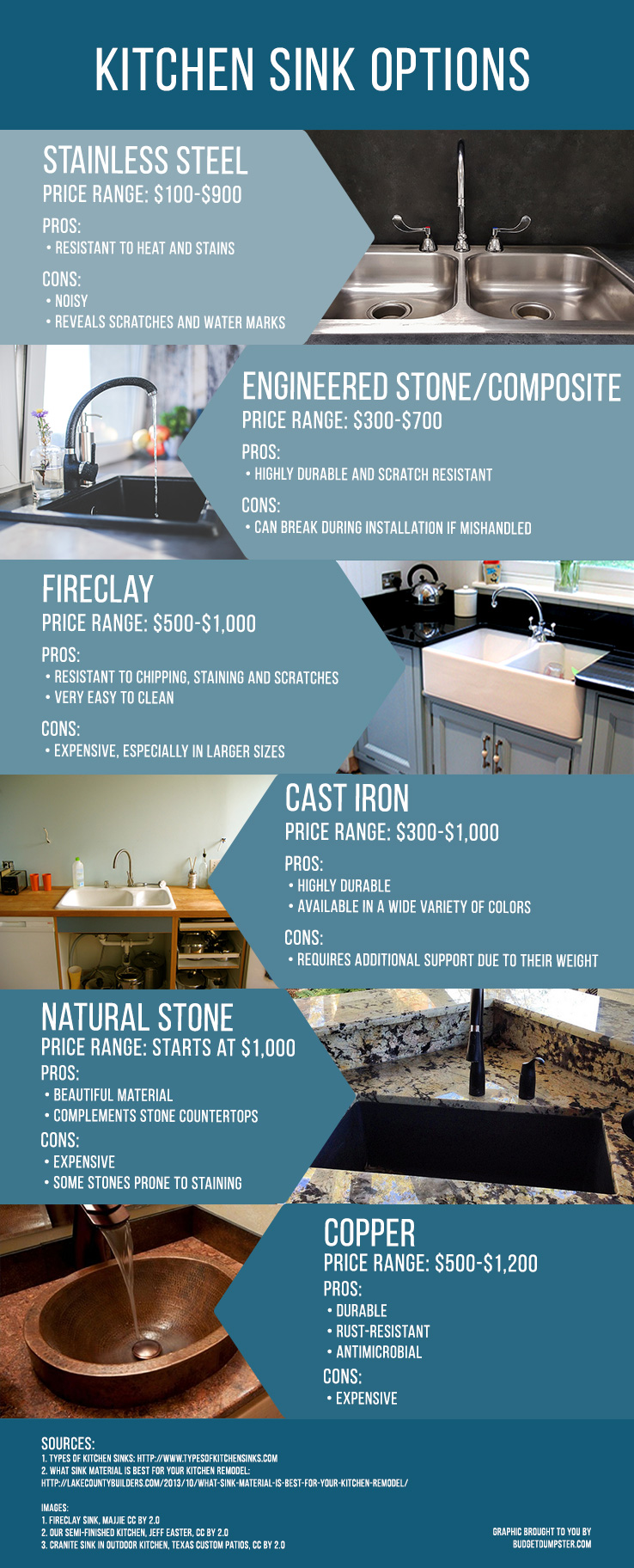 After deciding on a kitchen sink, your faucet should be a lot easier to pick out. If you have a large sink basin for washing pots and pans, then a faucet with a detachable sprayer or separate attachment is a must. The type of handle is also something to consider. Rotating handles are more convenient to use than normal two-handle faucets. But an even better (albeit more expensive) option is touch or motion-controlled taps that eliminate the need for contact.
Step #6: New Appliances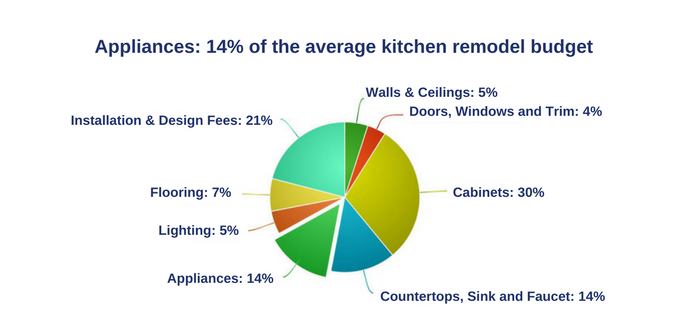 When looking at upgrades for your kitchen appliances, always look for energy-efficient models that will save you more in the long run. Also bear in mind the lifespans of each individual appliance and spend more of your budget on the ones that last longer. For instance, a dishwasher will generally need to be replaced every 9-10 years, whereas a cooktop will typically last 13-15 years or longer.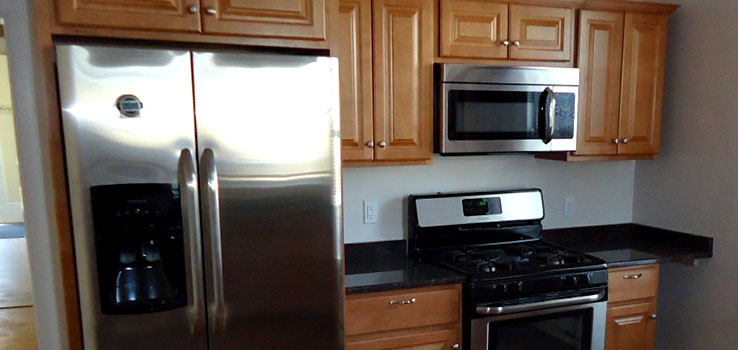 Devote more of your budget towards items that last a long time, such as an oven or cooktop.
For other appliances, such as dishwashers, the budget options may be the best overall choice even when compared to higher-end models. According to Consumer Reports, budget dishwashers in the $300-$600 price range performed just as well, or nearly as well, as their $1,000+ counterparts. The advantages of premium models are generally quieter operation and more shelf space for oversized items. If you are looking to upgrade your dishwasher, and don't care about the bells and whistles, a modern dishwasher can be a relatively inexpensive purchase.
Budget Kitchen Remodeling Tip #6:
Step #7: New Lighting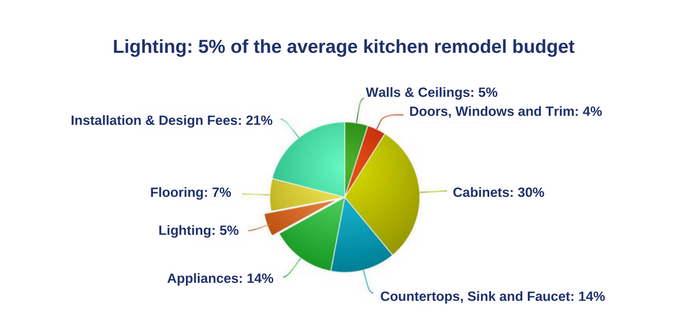 At this point, you can really see your new kitchen coming together. The only things left to do are to finish up the lighting and flooring. The best advice for saving money on new lighting fixtures is to use the internet. There are so many potential lighting elements and arrangements that in order to consider them all you need to do some research and scour online retailers for the best deals.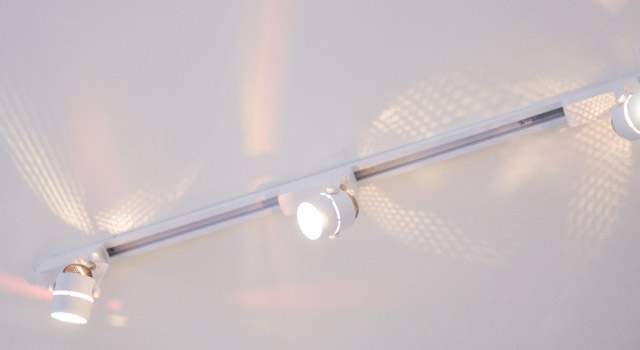 Bright LEDs are a great way to save on electricity costs over the long-term, though they do cost a bit more upfront. Image: Track lighting reflections and shadows_Maegan Tintari_CC by 2.0
As for what kind of lighting works best in the kitchen, Emily Henderson, of Style by Emily Henderson, says its depends on how you use your kitchen, as well as the design:
You should also consider the long-term savings of your new kitchen lighting. Compact fluorescents have been the go-to energy-saver for years, but newer LEDs are quickly advancing in both quality and efficiency. A typical 12-Watt LED costs roughly $1 per year, versus a 60-watt incandescent which costs a whopping $5 a year. Plus, the latest LED lights last over seven years, saving you even more in the long run.
Budget Kitchen Remodeling Tip #7: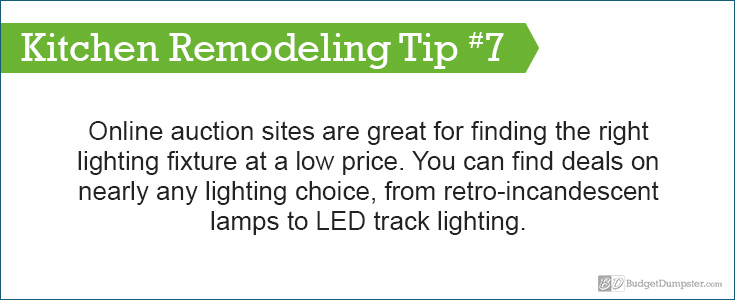 Step #8: New Flooring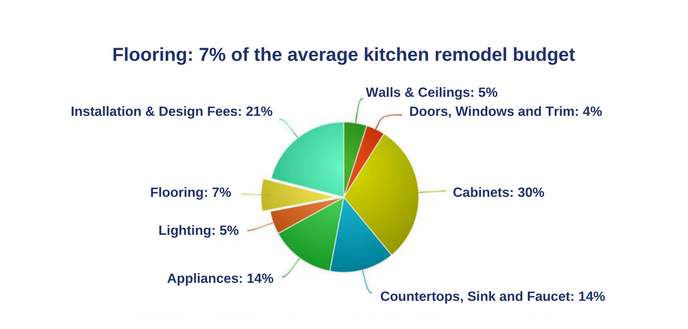 One of the easiest ways to save on new kitchen flooring is to use engineered wood or tile panels that you can snap together. Not only does it eliminate the meticulous process of installing hardwood or regular tile flooring, but it can also be done the DIY way by practically anyone. Of course, if you are looking for a particular look or feel, there are plenty of other options to consider:
Concrete: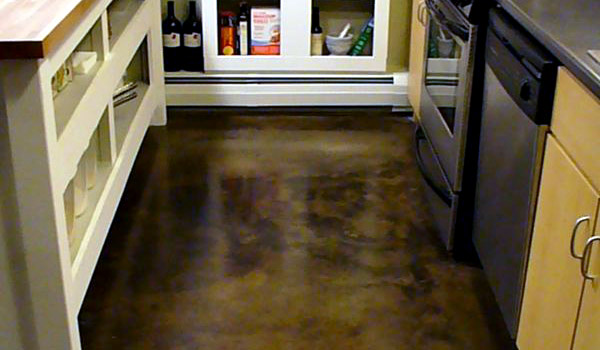 Cost per Square Foot: $1-$2 for a new slab, $0 if concrete subfloor exists.
Maintenance: Very low, concrete can be sealed against water damage and staining, in addition to being nigh unbreakable.
Linoleum: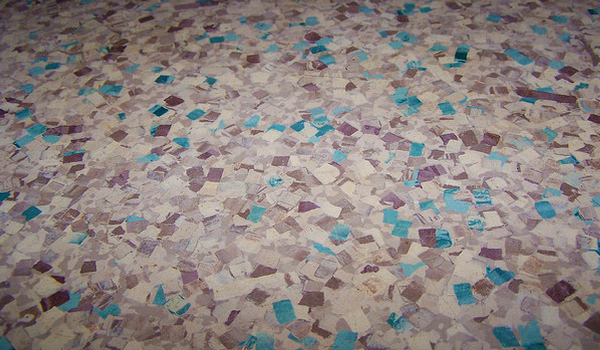 Cost per Square Foot: $2.50-$5, depending on the thickness and quality of the finish.
Maintenance: Relatively low maintenance, and offers high durability with greater thickness.
Vinyl: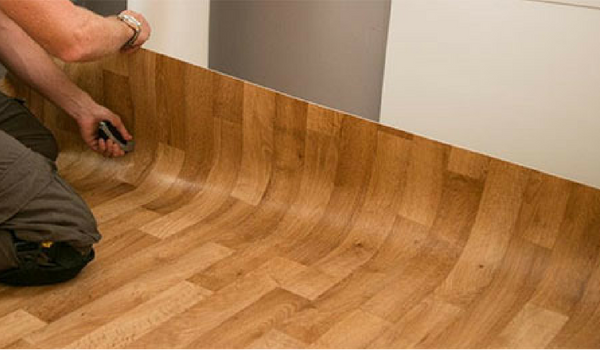 Cost per Square Foot: $2-$5, depending on the thickness and quality of the finish.
Maintenance: Low maintenance and easy to clean.
Cork: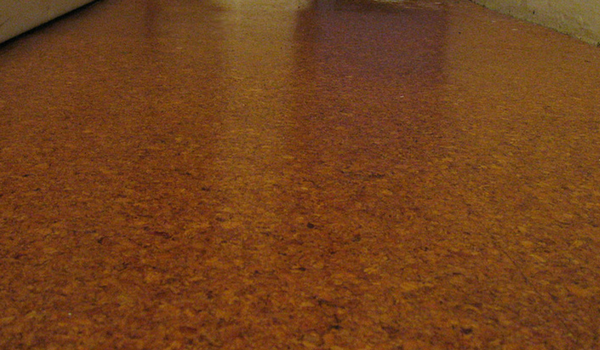 Cost per Square Foot: $1.50-$4
Maintenance: Moderate maintenance necessary, as pets or high-heeled visitors may leave marks in the material.
In addition to pricing, you should also take into account the type of foot traffic your kitchen receives. If pets, kids and little league sports teams are constantly running in and around the kitchen area, then a highly durable floor, such as concrete or vinyl, may be the way to go.
Summing Up Your Budget Kitchen Remodel
While remodeling a kitchen can be an expensive proposition, you can keep your costs down by following all, or even just a handful, of these tips. Budget concerns aside, the important thing to keep in mind is that your kitchen remodel should be a reflection of your tastes. There are a million and one ways to remodel a kitchen on a budget, especially if you are a new homeowner who hasn't really developed your own personal style. Try out different designs and materials in your new home. If there are certain things you learn you don't like, then you can do something different down the line, whether its in your current home or the next one.
For more DIY tips, check out our exceedingly comprehensive guide to DIY home improvement, covering everything from remodels to landscaping.