The Beginner's Guide to Remodeling a Kitchen on a Budget
Budget Kitchen Remodeling Tips for New Homeowners
Wondering how much a kitchen remodel costs? Get your fainting couch ready because, according to Home Advisor, the average kitchen remodel costs a staggering $20,301 — roughly the same price as a brand-new Honda Civic. And a major kitchen remodel can cost over twice as much, with an average price tag of $50,000.
Putting down that much money on a new kitchen is worth it for some. But others aren't interested in splurging on high-end updates. Luckily, putting your kitchen remodel on a budget doesn't mean you have to sacrifice style.
In this guide, we'll show you how to remodel your kitchen the budget-friendly way. You'll learn the average costs of each aspect of a remodel — from floors to cabinets — and tips for saving on each one.
So, What Goes Into the Cost of a Kitchen Remodel?
Budgeting for a kitchen remodel involves keeping track of the cost of many different projects, from installing a new sink to switching out your flooring. This chart shows, on average, what percentage of your budget will go toward certain parts of your remodel.
What to Budget for Your Kitchen Remodel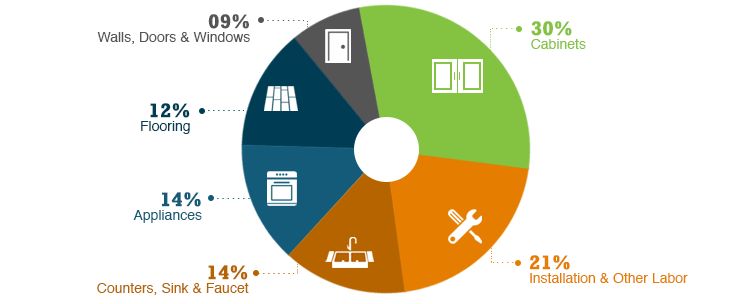 The total cost of your kitchen remodel depends on:
The size of your kitchen.
The number of updates you want to make.
The materials you choose.
How much of the work will be handled by contractors.
This means you can bring costs down in certain areas by choosing budget-friendly materials or DIYing the installation.
Tried-and-True Budget Kitchen Remodeling Tip:
When we remodeled our kitchen we saved money in the following ways:
1) Our builders-grade oak cabinets were embellished with wood trim to make them look higher end. This included molding at the top and bottom bases.
2) Instead of a full countertop upgrade, we saved money by repurposing only the island by adding butcher block, adding a beadboard facing and corbels.
3) Our backsplash budget was limited so we stenciled our backsplash as a temporary fix.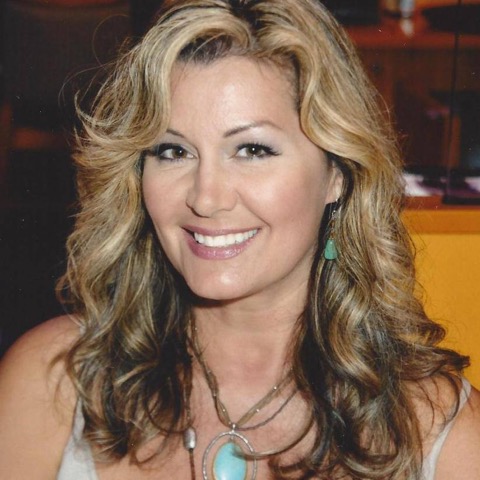 Jeanette Lockmiller | Snazzy Little Things
In the rest of this guide, we'll break down the individual projects involved in a kitchen remodel and give you expert tips for saving on each.
How to Save on a Kitchen Demolition
How Much Does a Kitchen Demolition Cost?
The cost to demo a kitchen can vary depending on how much of the space you're demolishing. A full kitchen demolition, including plumbing moving costs, can cost anywhere from $1,205 to $2,160. But if you are only demolishing part of your kitchen, or keeping your plumbing as-is, your costs may be much lower. The following table provides a breakdown of how much a partial kitchen demolition might cost:
Average Kitchen Demolition Costs
| Project | Average Demolition Cost |
| --- | --- |
| Cabinet Removal | $400-$900 |
| Countertop Removal | $110-$250 |
| Drywall Removal | $50-$110 |
| Flooring Removal (300 sq. ft) | $285-$610 |
Best Way to Save on Kitchen Demolition Costs
When on a budget, DIY kitchen remodel work can save you a lot on labor costs. While not all aspects of a kitchen demolition are DIY-friendly, there are some parts you may be able to do on your own, including:
An important factor to consider is how you plan to work around not having access to your fridge, stove and other appliances. The costs of eating out every day for six weeks can add up, so it's best to have a plan for surviving your kitchen remodel so your food spending doesn't skyrocket.
Another thing to keep in mind is the cost of demolition debris removal. There are a number of disposal options available, but the most cost-efficient option for large amounts of debris is a dumpster rental. The cost to fill an entire junk removal truck with debris can be $500 or more. Alternatively, you can remove more junk with a 20 yard dumpster for $415 on average with prices as low as $262 in some areas, allowing you to free up more room in your budget for other kitchen remodeling to-dos.
Search for Dumpster Rental Prices in Your Area:
---
How to Save on Kitchen Cabinets
How Much Do Kitchen Cabinets Cost?
Cabinets typically make up the largest percentage cost of a kitchen remodel, which means this is one of the most important areas to budget wisely. The cost of brand-new kitchen cabinets depends on how many linear feet of cabinetry you need and the type of cabinets you choose: stock, semi-custom or fully custom.
This table gives the average price range for each cabinet type. Most kitchens feature 30 linear feet of cabinetry, but be sure to adjust the math based on the specifics of your remodel.
Stock Cabinets
(Sold as-is in store)
Semi-Custom Cabinets
(Some custom elements)
Custom Cabinets
(Built to buyer's exact specs)
Average Cost
per Linear Foot:
$60-$200
$100-$650
$500-$1,200
Total Avg. Cost
for 30 Linear Feet:
$1800-$6000
$3000-$19,500
$15,000-$36,000
Stock Cabinets
(Sold as-is in store)
Semi-Custom Cabinets
(Some custom elements)
Custom Cabinets
(Built to buyer's exact specs)
$60-$200 per linear foot
$100-$650 Per Linear Foot
$500-$1,200 Per Linear Foot
$1800-$6000 For 30 Linear Feet
$3000-$19,500 For 30 Linear Feet
$15,000-$36,000 For 30 Linear Feet
Source: HGTV
Stock cabinets will always be the cheapest option if you decide to buy brand-new cabinetry as part of your remodel. Stock cabinets can also be used to build your own kitchen island, if you're looking to save a little more money on your DIY kitchen remodel.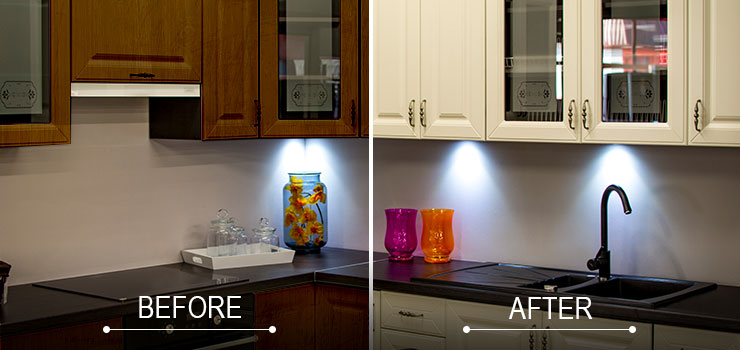 Tried-and-True Budget Kitchen Remodeling Tip:
Here's How to Make Stock Cabinets Your Own
"We added decorative trim on the doors of our builder's grade cabinets and molding to the top and bottom — cost $100. Be sure to caulk all the gaps to finish off the look! We also added corbels, or "legs," at the bottom of the cabinets to appear like a piece of standalone furniture--$80 each."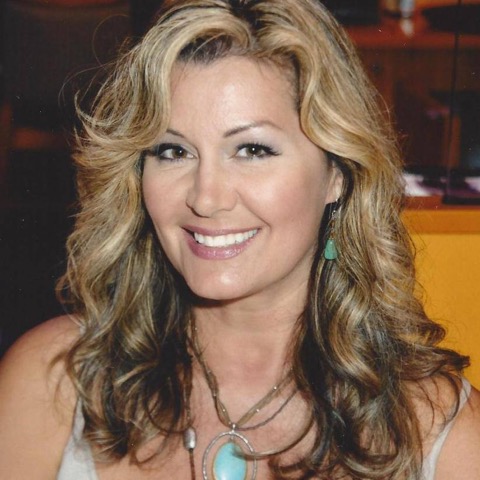 Jeanette Lockmiller | Snazzy Little Things
Best Way to Save on Kitchen Cabinet Costs
Budget-conscious kitchen remodelers can save thousands of dollars by refacing or refinishing their existing cabinets instead of replacing them. The average homeowner can also safely DIY this part of their kitchen remodel, saving you even more.
Refacing

Refinishing

What It Is:
Giving existing cabinet frames, doors and drawer fronts a new veneer, usually wood or laminate.
Painting or staining existing cabinet frames, doors and drawer fronts.
Average Cost for DIYers:

$260-$560

Paint: $80-$180

Stain: $51-$106

Average Cost with Professional Help:

$1,000-$6000

Paint: $700-$1,500

Stain: $2,500-$5,000

When to Choose It:
When existing cabinet surfaces have problem areas that paint or stain won't cover.
When cabinets have become dingy but are otherwise in fairly good condition.
Sources: Home Advisor, House Logic, Improvenet
While refinishing your cabinets will take time and effort, the process is simple enough to make this an obvious way to keep your kitchen remodel inexpensive.
Tried-and-True Budget Kitchen Remodeling Tip:
Tips for Giving Your Cabinets a Facelift:
Paint
It's easier than you think! There are many paint companies out there that design paints especially for cabinets. You could have "new" cabinets in just a day! Tip: We love Milk Paint for a paint wash look.
Change Knobs
Just changing out the cabinet knobs can make cabinets look brand new. Tip: Use polished nickel instead of chrome because it has a warmth to it and goes well with most colors-and looks classy as well!
Take the Doors Off
Open shelves are really becoming popular in kitchens. Not only can it allow you to bring in more color to your kitchen, it gives you easy access to your dishes. Tip: Add pretty fabric to the back walls of white cabinets for an extra pop."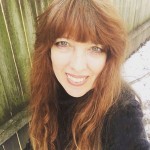 Tess Moody | Six Feet Under Blog
---
How to Save on Countertops
How Much Do Countertops Cost?
The cost of your countertops will also make up a big percentage of your kitchen remodeling budget. There are plenty of options for countertops, but their cost varies by material and the difficulty of installation.
This table gives the price per square foot of the most popular countertop materials, plus the average overall cost with installation included.
| Material | Avg. Price Per Square Foot | Avg. Total With Pro Installation |
| --- | --- | --- |
| Laminate: | $20-$50 | $3,000-$4,000 |
| Butcher Block: | $35-$200 | $1,700-$3,000 |
| Corian: | $40-$60 | $2,200-$5,0000 |
| Granite: | $50-$200 | $3,000-$4,500 |
| Concrete: | $77-$110 | $9,244-$13,295 |
| Quartz: | $100-$150 | $5,900-$14,000 |
| Marble: | $125-$250 | $2,000-$9,500 |
Sources: Countertop Investigator, Home Advisor, HomeWyse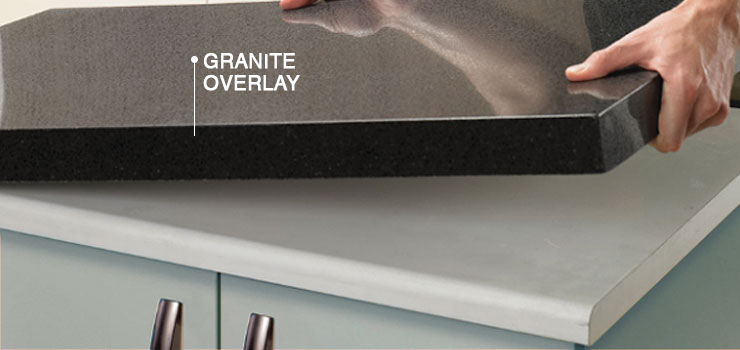 Best Way to Save on Countertop Costs
If you're looking to keep your kitchen remodel affordable, you can save plenty of money by choosing laminate or butcher-block countertops and installing them yourself. Both of these options are pretty simple for even a beginner tackling a DIY kitchen remodel — saving thousands in the process.
If neither of those options fit the style you want for your new kitchen, there are a few ways you can save on the high-end look of granite:
Install a granite overlay on your existing countertops. This option is also pretty DIY friendly.
Buy granite remnants instead of whole slabs. Start your search at a nearby stone yard, or a Habitat for Humanity ReStore.
Buy your granite from a wholesaler. A granite company will still need to turn it into countertops for you, but it will come with a cheaper price tag.
Tried-and-True Budget Kitchen Remodeling Tip:
Another Genius Way to Save on Countertops:
"We wanted new granite (or similar) countertops, but with a new roof, a baby on the way, a home refi (and a few other larger expenses) we just couldn't swing it. So I once again turned to Pinterest, where I stumbled upon this blog post with steps detailing how to pretty easily convert your existing countertops to polished concrete coated ones. We decided that this was the only way for us to go (at least for now until we are possibly ready to professionally update them in the future)."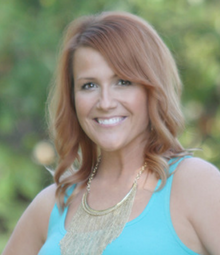 Audrey Kuether | Oh So Lovely
---
How to Save on Drywall
If you're planning to change the layout of any part of your kitchen, then you'll probably need to install drywall. Drywall typically makes up a relatively small portion of a kitchen remodel's cost and there are plenty of ways to save.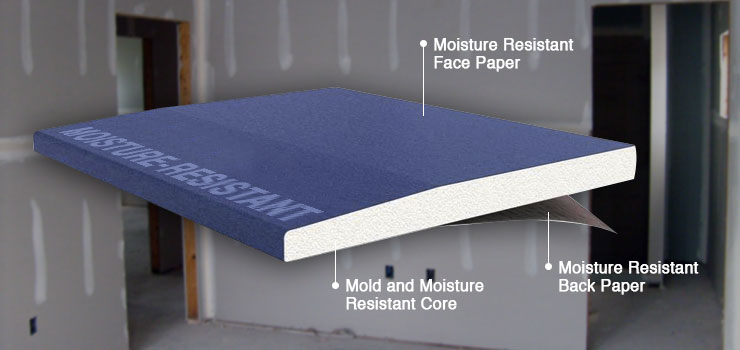 Moisture-resistant drywall is a great choice for the kitchen where water is frequently in the air.
How Much Does Drywall Cost?
The total cost of drywall for your kitchen remodel will depend on the number of sheets you need, the size of the sheets and the quality. On average:
4-by-8-inch drywall: $6-$8 per sheet
4-by-9-inch drywall: $8-$10 per sheet
4-by-12-inch drywall: $10-$11 per sheet
4-by-14-inch drywall: $13-$14 per sheet
4-by-16-inch drywall: $13-$16 per sheet
Source: Home Advisor
If a contractor installs drywall for you, labor costs typically average out to about $1.50 per square foot. So, the exact cost for your drywall installation will depend on the size of the area being covered.
Keep in mind that labor costs can go up if your kitchen has unusual dimensions or certain architectural features, such as windows or archways.
Best Way to Save on Drywall
You can lower the cost of drywall installation by using the fewest number of sheets possible to cover the necessary area. Doing this depends on finding the best sheet size for your space. Use this calculator to test various sheet sizes and determine which fits your budget.
If you're up for some heavy lifting, hanging drywall in a smaller, rectangular area is a job you can safely DIY to save on installation costs.
For more complex installations, you should call a pro. Since most people spend a lot of time in the kitchen, even small mistakes with your drywall will stand out. And if you make a big mistake, the cost to fix it will quickly eat up any savings you might have made by doing it yourself.
Tried-and-True Budget Kitchen Remodeling Tip:
Remember to Expect the Unexpected
1. Budget more than you think you'll need. As things get taken down and ripped apart, it's not uncommon to find other problems that need to be addressed before the new kitchen is installed. It's best to be ready for that possibility! For example, if the quote for countertops is $X, I'd budget $X plus 10%.
2. Be flexible. Don't be afraid to reallocate money to different areas if you need to. A kitchen remodel can be unpredictable; know that going in and be ready to adapt. If you come under budget in one area, move that money to another part of the project..
3. Add one line in your budget for "Stuff I didn't see coming!" During my first kitchen renovation, I forgot to budget money for a dumpster to take all the debris away. It wasn't much, but those things add up and it's hard to predict every single expense.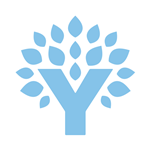 Erin Lowell | You Need a Budget
---
How to Save on a Kitchen Sink
How Much Does a Kitchen Sink Cost?
The cost of a kitchen sink depends largely on the material it's made of. This table shows the most common sink materials and their average costs.
Material

Average Cost

Characteristics

Stainless Steel:

$100-$600

Many different styles and finishes available.
Stain and heat-resistant.
Water spots and fingerprints are pretty noticeable.

Composite:

$250-$550

Chip and scratch-resistant.
Looks and feels like stone but much cheaper.
Can be stained by certain substances.

Enameled Cast Iron:

$300-$900

Very durable.
Wide range of colors and styles available.
Extremely heavy, making installation more expensive than other materials.

Fireclay:

$450-$1000

Incredibly durable.
Almost completely stain-resistant.
Extremely heavy and usually has limited faucet options.

Quartz:

$800-$1,200

Creates seamless continuity with the counter.
Hides water spots and fingerprints well.
Must be designed as part of a quartz countertop.
Source: Remodeling Calculator
Check out this chart as an infographic: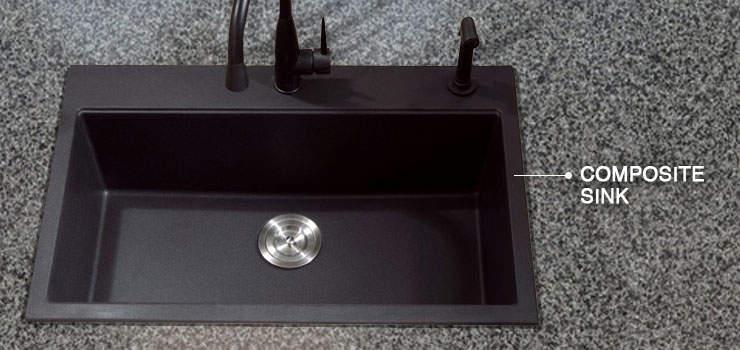 How much your kitchen sink costs will also depend on the style of the sink, since different styles have different installation costs associated with them. The most common sink styles are:
| Sink Type | Description | Avg. Installation Cost |
| --- | --- | --- |
| Drop-In Sink | A lip extends above the countertop's surface. Also called "self-rimming." | $195 |
| Undermount Sink | Installed under the countertop, with no lip. Creates a seamless look. | $230 |
| Farmhouse (Apron) Sink | Front panel extends over the edge of the surrounding counter. Sink bowl does not sit flush with counter. | $240 |
| Integrated Sink | Created as part of the countertop itself. Only possible with stone countertops. | Depends on length and width of entire counter. |
Source: Home Advisor
Best Way to Save on a Kitchen Sink
Choose a stainless steel or composite sink in a drop-in style for the most budget-friendly update to your kitchen.
---
How to Save on a Backsplash
How Much Does a Kitchen Backsplash Cost?
The cost of a new kitchen backsplash will depend on the material you choose and the dimensions of the backsplash area. The table below lays out the average cost per square foot for the usual options.
| Material | Average Cost |
| --- | --- |
| Beadboard: | $0.64 per square foot |
| Thermoplastic Squares: | $18-$25 per panel (only sold in panels that are cut to size) |
| Ceramic Tile: | $25 per square foot |
| Glass Tile: | $30 per square foot |
| Stone: | $35 per square foot |
Source: Home Advisor
Check out this chart as an infographic:
Before making your decision, be sure to calculate the square footage of your backsplash areas for an accurate estimate.

Best Way to Save on a Kitchen Backsplash
By far the best way to save on your backsplash is to choose an option you can easily DIY. If it matches your kitchen's style, beadboard is an incredibly budget-friendly — and trendy — option that takes virtually no effort to install.
If beadboard isn't right for your design, a backsplash made from thermoplastic squares is also very simple to do in a DIY kitchen remodel, making it the next-best way to save.
But for a more classic look, you can opt for ceramic tiles. Many manufacturers now make tiles in interlocking panels that are pretty easy to install. Some even come with their own adhesive backing, so you won't have to bother spreading gel yourself.
If you're looking for a shiplap backsplash or accent wall worthy of Chip and Joanna Gaines, you may be able to find affordable reclaimed wood by checking your local classifieds.
Tried-and-True Budget Kitchen Remodeling Tip:
Want to Get Really Thrifty With Your Backsplash?
"When we remodeled our kitchen our backsplash budget was limited, so I used a stencil with a script version of the French sonnet, "Springtime in Paris" to create a DIY stenciled backsplash. It was meant to be temporary until we could afford tile, but I've grown to love it!"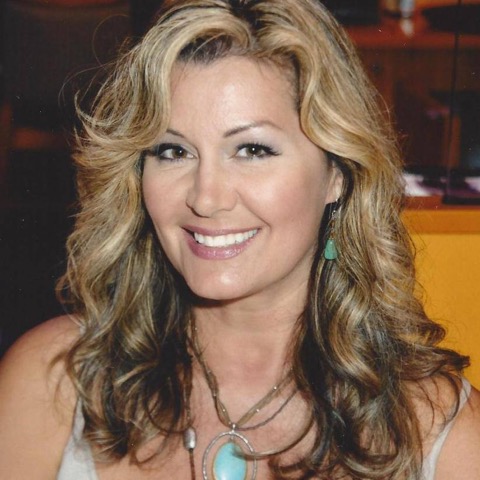 Jeanette Lockmiller | Snazzy Little Things
---
How to Save on Kitchen Flooring
How Much Does Kitchen Flooring Cost?
The cost of new kitchen flooring typically represents a smaller piece of your remodel budget than features like cabinets and countertops. But that doesn't mean a budget-conscious homeowner can't still find ways to save.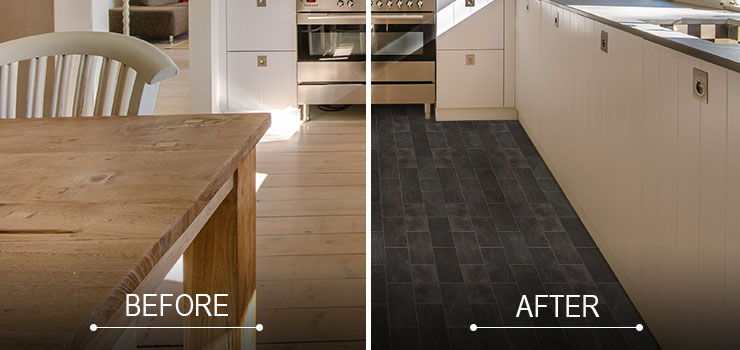 This table shows the average price per square foot and the average total cost with installation for the most popular types of kitchen flooring.
Material

Avg. Price Per Square Foot

Avg. Total With Installation

Linoleum:

$3.30

$350

Laminate:

$5.50

$700

Cork:

$5.00

$1,500

Ceramic Tile:

$1.30

$1,600

Wood:

$3.00-$8.50
(Depending on the wood type you choose)

$4,000
Source: Home Advisor
Best Way to Save on Kitchen Flooring
Linoleum and laminate flooring are the classic choices for remodelers on a budget. And there's no longer any reason to cringe — modern versions of these flooring types are available in a huge variety of stylish looks.
And as long as you don't mind the work, most homeowners can DIY the flooring installation for these options (linoleum is especially straightforward) in order to save even more. Depending on the flooring you choose, this can be one of the most involved parts of a DIY kitchen remodel. If you're not sure where to begin, some flooring manufacturers offer workshops for DIYers where you can talk to an expert about how to tackle your project.
If you're looking for something more luxe, a professionally installed cork kitchen floor is relatively inexpensive and can easily last up to 80 years without needing any further maintenance.
Tried-and-True Budget Kitchen Remodeling Tip:
"There are so many great options for kitchen flooring that are budget friendly. Brady from our team recently redid his entire kitchen floor for under $50 using easy to use peel and stick tile that comes in a handful of colors. If you are looking for something more permanent, then a simple 12x12 ceramic tile with a small grout line is a great option for you as well."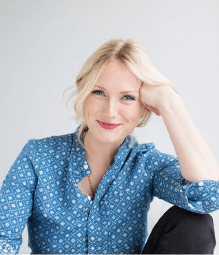 Emily Henderson | Style by Emily Henderson
---
Ready to Save on Kitchen Remodeling Costs?
With these tips, you can plan a low-cost remodel that will make you the envy of all your friends. So step away from that fainting couch and get busy on the budget kitchen remodel of your dreams! Planning on doing some DIY work around the house? We've got tips for that too in our Exceedingly Comprehensive Guide to DIY Home Improvement.