John Fenn and Mark Campbell are first recipients of new award
Westlake, Ohio – July 8, 2016 –  Budget Dumpster, one of the leading and fastest growing waste companies in the U.S., has announced that co-founders John Fenn and Mark Campbell of Budget Dumpster have been awarded the Inspiring Scaleup CEO Award by Jumpstart, Inc.
Fenn and Campbell were among seven finalists and selected based on company growth, job creation, positive work environment and business leadership. The first-year award was conceived to highlight the CEO of fast-growing small businesses in Northeast Ohio who are driving economic impact in the community and was presented as part of Jumpstart Inc.'s "Startup Scaleup" event on June 28 at the Capitol Theatre in Cleveland, Ohio.
"It's such an honor to be recognized by Jumpstart, who does so much for Northeast Ohio entrepreneurs," said Campbell. "It is also extra special to be the very first winners of this award with so much talent in this region."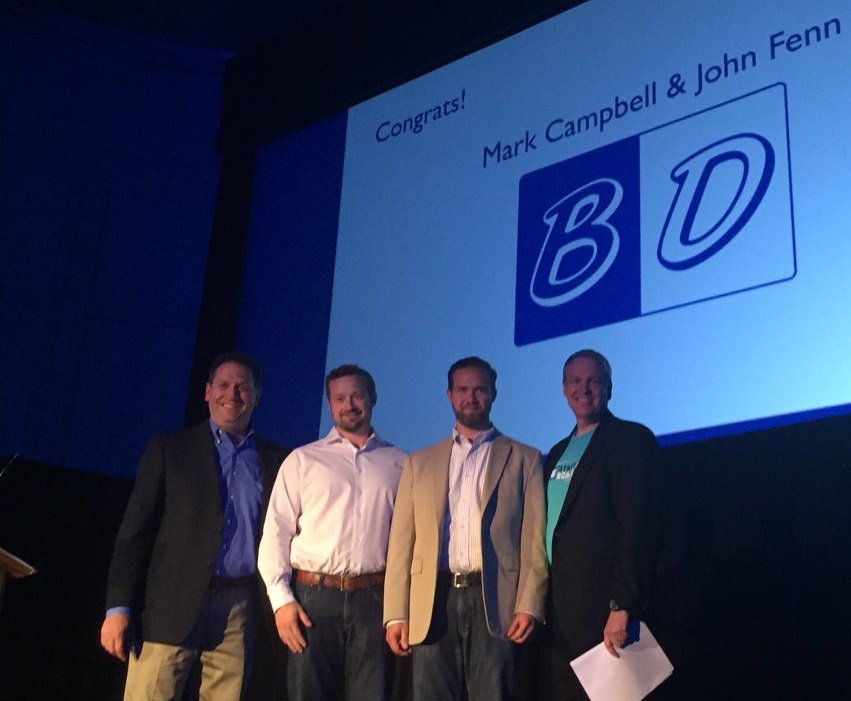 Fenn and Campbell founded Budget Dumpster in 2009 to disrupt a waste industry niche – temporary roll-off dumpsters – that was ripe for innovation. Since inception, the company has seen annual double-digit revenue growth, including 45 percent growth in 2015 and 40 percent growth through Q1 2016.
The Inspiring Scaleup CEO Award was the second award received by Fenn and Campbell over the past month. On June 15, the Budget Dumpster co-founders were presented with the 2016 EY Entrepreneur Of The Year® Award for the Northeast Ohio Region in the Retail and Consumer Products & Services category.
Additional recognition Budget Dumpster has received over the last 12 months:
Waste100, ranked No. 67 largest waste and recycling firms in North America by Waste360
Most Flexible Workplaces, ranked #31 by Fortune
INC. 5000, ranked No. 966 fastest-growing private companies by Inc. magazine
About Budget Dumpster®
Established in 2009, Budget Dumpster delivers affordable waste removal services in 46 states and most major markets throughout the United States. Working with over 250 local partners, Budget Dumpster sells thousands of temporary roll-off dumpsters each week for projects big and small.
Based in suburban Cleveland with a growing team of over 60 employees, Budget Dumpster has been recognized as one of America's fastest growing companies by the Inc. 500 (No. 966 in 2015), one of the top five fastest growing companies in Northeast Ohio by Crain's (2015), one of the largest waste and recycling firms in North America (No. 67 in 2016) and one of Fortune's Most Flexible Workplaces (2016). Learn more about how we help people and companies each day at www.budgetdumpster.com.