Concrete Dumpster Rental Services

Rent a Dumpster to Save Time and Money on Concrete Debris Removal
Whether you're tearing up a sidewalk or completing a full-scale demolition, our dumpster rental services can help you efficiently remove broken concrete, block and asphalt from projects of all sizes. We offer quick deliveries and pickups, and our low flat-rate pricing allows you to keep your work area clean and clear of debris for less.
Find the Right Concrete Dumpster for Your Heavy Debris
You can dispose of up to 10 cubic yards of concrete using just one container. Our most common concrete dumpster size is the 10 yard dumpster, but you can also rent a 20 yard concrete dumpster in some areas,* provided it is only filled halfway.
Concrete Dumpster Size
Ideal For:
10 or 20 Yard Dumpster

Driveway and slab removals
Retaining wall teardowns
Home or business remodels
Demolition projects
*Heavy debris loads are limited to a maximum of 10 tons on the roadway – this means a 20 yard dumpster may only be half-filled with concrete and other heavy materials. Stated weight limits may also vary by location – ask your sales representative for more information.
Search for Dumpster Rental Prices in Your Area
or search your city/zip below
A Better Concrete Debris Removal Option for You and Your Clients
A professional project calls for a professional disposal solution. We provide efficient concrete dumpster services at competitive rates to keep your job's timeline and budget on track. One quick phone call is all it takes to get a free quote, choose a dumpster size and set up your order. Have a number of upcoming projects? Let our team know and we'll work with you to manage disposal for all of your job sites.
Affordable: Our low flat-rate pricing allows you, and your client, to save more.
Fast: Get prompt delivery and pickups with one call to our team.
Convenient: We can swap out and deliver extra bins so you never have to slow down.
Dedicated Support: Connect directly with your representative to manage your team's ongoing disposal needs.
Tackling a Home Project DIY-style?
We offer concrete dumpster rentals for homeowners too. Call 855-201-6521 to get a free quote on concrete debris removal services near you.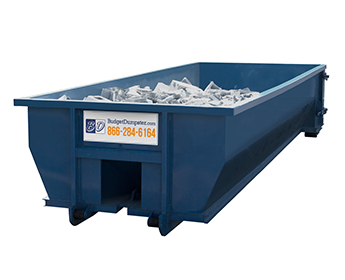 Concrete Dumpster Costs
The national average cost to rent a 10 yard concrete dumpster is $582, with prices ranging between $300 and $1317. This allows you to dispose of up to 10 tons of material without having to leave your job site.
If you have a large amount of concrete debris to remove, having a roll off dumpster on hand is much easier and more cost-efficient than hauling it on your own.
What Can Go in a Concrete Dumpster?
There are a few types of heavy debris we can haul in a concrete dumpster:
Clean Concrete: Concrete that is free of trash, excessive metal, roots or any other contaminants. Painted concrete is considered clean as long as the paint is not lead-based.
Asphalt and Brick: Brick and asphalt from building or pavement demolitions.
Mixed Heavy Debris: Any combination of clean concrete and other heavy materials, such as brick, block or asphalt.
Items that cannot be thrown into a concrete dumpster include:
Concrete Slurry: While solid concrete is accepted, you cannot use a dumpster for concrete slurry disposal. Look into other concrete slurry solutions to handle any leftover mix.
Other Prohibited Items: Certain hazardous or flammable materials are never allowed to be thrown into a concrete dumpster. Make sure these prohibited items never enter your bin.
Disposal of clean concrete can always be handled with one of our concrete dumpster rentals. We can also haul away mixed heavy debris as long as all materials are free of trash, lead-based paint and significant amounts of rebar or other metal.
Due to roadway regulations, our trucks can haul up to, but no more than, 10 tons of concrete. The best dumpster size for concrete debris removal is generally a 10 cubic yard dumpster. However, you can also rent a 20 cubic yard dumpster and fill it up halfway. If you're disposing of more than 10 tons of concrete, we can deliver multiple containers and provide convenient swap-out services to keep your project on track.
To estimate the overall weight of your debris, use our concrete weight calculator.

Have More Projects to Work On? We Have the Dumpsters You Need
Call 855-201-6521 to find the right dumpster size and services for any project, including:
---
How Our Concrete Dumpster Rentals Work