Concrete Dumpster Rental Services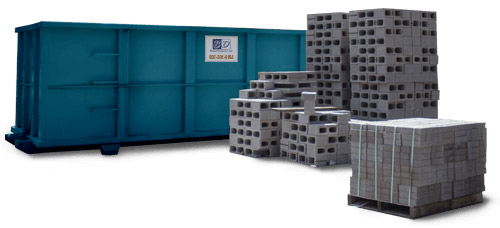 An Affordable and Efficient Concrete Disposal Option
Whether you're a property owner or a contractor, our concrete dumpsters can help you efficiently remove heavy debris like asphalt, dirt or concrete from projects ranging from demolitions to driveway replacements. With our low rates and easy ordering process, concrete disposal will be the easiest part of your project.
Dumpster Rentals for Easy Concrete Debris Removal
Our concrete dumpsters make debris removal easy for DIYers and professionals alike. A quick phone call is all it takes to get a free quote, choose a dumpster size and set up your order.
Affordable: Enjoy low, flat-rate prices without hidden fees.
Fast: Get prompt delivery and disposal, so you never have to slow down.
Convenient: We offer two concrete dumpster sizes for jobs large and small.
No matter your project, we have the right concrete dumpster to handle any kind of heavy debris removal. Call us to get an order set up within minutes and have your dumpster delivered quickly.
What Can Go in a Heavy Debris Dumpster?
There are two types of heavy debris we can haul in a concrete dumpster:
Clean Concrete: Concrete that is free of trash, excessive metal, roots or any other contaminants. Painted concrete is considered clean as long as the paint is not lead-based.
Mixed Heavy Debris: Any combination of clean concrete and other heavy materials such as brick, block or asphalt.
Disposal of clean concrete can always be handled with one of our concrete dumpster rentals. We can also haul away mixed heavy debris as long as all materials are free of trash, lead-based paint and significant amounts of rebar or other metal.
The maximum weight for a heavy debris load is 10 tons. The best dumpster size for concrete disposal is generally a 10 cubic yard dumpster. However, you can also rent a 20 cubic yard dumpster and fill it up halfway. To estimate the overall weight of your concrete debris, use our weight calculator.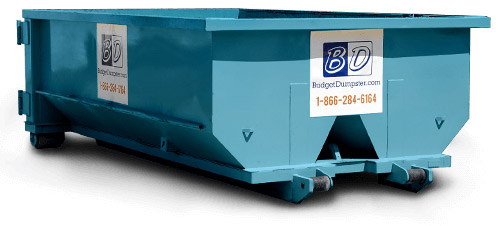 How to Dispose of Concrete With a Dumpster
Concrete disposal with a dumpster rental is a simple process. We offer 10 cubic yard and 20 cubic yard dumpster rentals in virtually all of our service areas, available specifically for concrete debris removal, as well as asphalt, dirt or brick, depending on the location. Just fill your dumpster as you work, then call us up when you're ready for a pickup.
Tips for Concrete Demolition
Tearing up a concrete plot or a driveway is a strenuous task. Use these tips to make DIY concrete demolition more manageable.
Wear leather gloves and goggles when breaking up concrete.
Recruit help. Even if you're using a jackhammer, you'll want help moving the debris into the dumpster.
Cover the slab with a sheet of plastic while working to prevent concrete shards from flying around.
Use a heavy-duty wheelbarrow to move debris.
Have bolt cutters on hand in case there is wire mesh or rebar in your concrete.
Following these safety tips will help you avoid injuries and property damage while demolishing concrete slabs. After you're done swinging the sledgehammer, give us a call and we'll pick up your concrete ASAP.
How Our Concrete Dumpster Rentals Work