Dumpsters for Demolition Debris

Work With Us for Convenient Demolition Debris Removal
Does demolition work have you buried in rubble? Make cleanup simpler by choosing us for your debris removal. We offer demolition dumpster rentals in a variety of sizes at low, flat rates. Call us today and have bins on your job site as early as the next available business day.
Find the Right Size Demolition Dumpster to Simplify Cleanup
We know every job is different, which is why we offer a wide range of container sizes. Whether you're tearing down a sagging porch or demolishing a whole building, we have the right bin for your needs.
The right container for construction and demolition debris removal depends on the project and amount of debris you will have:
Demolition Dumpster Size
Ideal For:
10 Yard Dumpster

Residential wall removal
Concrete and driveway demolition
Asphalt demolition

20 Yard Dumpster

Flooring removal
Deck or porch demolition

30 Yard Dumpster

Shed or barn demolition
Multi-room renovations

40 Yard Dumpster

House demolition
Whole-home renovations
Office demolition projects
Search for Dumpster Rental Prices in Your Area
or search your city/zip below
How Our Demolition Dumpster Rentals Keep Your Job Site Clean
Demolition projects create a lot of debris, and you need to get it out of the way ASAP to keep customers happy. Work with us to save time, money and effort while cleaning up.
Fast: Never lose time hauling your debris to the landfill with a bin on-site.
Ongoing Service: Filled up a demolition container? Call us for empty-and-return service at any time during your project.
No Hidden Fees: With our flat rates, you can tell customers exactly how much demolition removal will cost before you start.
Dedicated Service: Returning customers can call, email or text a dedicated representative for a new pickup or bin.
Need a dumpster for DIY demolition?
We offer dumpster rentals for projects of all sizes. Call today to learn more.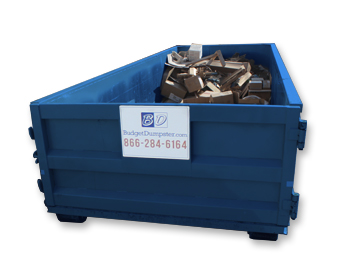 Demolition Dumpster Costs
When it comes to getting rid of demolition debris, your options include renting a dumpster or making multiple trips to the local landfill. If you're making trips to the dump, there's no telling how much time and gas money your team will spend loading, driving and unloading debris. When you work with us, all you need to do is pile waste inside the demolition container,making sure to not go over your dumpster's weight limit, and call us when it's full.
The size and number of containers required will depend on your project and the type of debris you are dealing with. Our team can help you choose the right size dumpster for the job and provide ongoing empty-and-return service to make sure you always have an easy way to clear away waste.
| Demolition Debris Dumpster Size | Average Cost Range |
| --- | --- |
| 10 yard | $199 to $569 |
| 20 yard | $262 to $677 |
| 30 yard | $300 to $698 |
| 40 yard | $335 to $761 |
*The availability and cost of a demolition dumpster varies by size and location.
What Can Go in a Demolition Dumpster?
Our dumpster rental services accept a variety of construction and demolition debris types including:
Concrete: Concrete and other heavy debris requires a 10 yard dumpster.
Flooring: Tile, carpet and other materials accepted.
Siding: Aluminum and vinyl siding are both accepted.
Roofing Materials: Shingles, felt paper, trim and other roofing supplies accepted.
Wood and Drywall: We accept a large variety of building materials.
Call 866-284-6164 today to learn more about our demo dumpster rental services in your area.
Have More Projects to Work On? We Have the Dumpsters You Need
Working on more than just landscaping jobs? We offer the right dumpster sizes and services for a variety of contracting projects including:
---
How Our Demolition Dumpster Rentals Work