Roofing Dumpster Rentals
Efficient Container Services for Shingle Removal
Roof work is your job; cleaning up the debris is ours. Our roofing dumpster rental services make it quick and affordable to clean up after shingle removals and related projects. We offer low, flat-rate pricing and fast delivery on dumpsters for shingles and other common roofing debris.
Find the Right Dumpster for Your Roofing Debris
The best container for your roofing job depends on the amount of debris you have and the scope of your project. The most common dumpster size for roofing is the 10 yard container. This size is best if you're just disposing of shingles and other roofing materials during normal roof repairs. The 20 yard container is best for larger roofing projects, or jobs that involve more than just shingle removal. For longer projects such as whole-house renovations and demolitions, you can rent more than one dumpster at a time to clean up your shingles and other debris with ease.
Roofing Dumpster Size
Ideal For:
10 Yard Dumpster

Roof repairs
Shingle removal projects

20 Yard Dumpster

Entire roof replacements
Full-scale home renovations
Get a Dumpster for Your Shingle Removal Project Today
or search your city/zip below
Get Efficient Roofing Dumpster Services to Streamline Your Project
Our professional roofing dumpster services make cleanups easy and efficient for any-sized job. When you call, you'll speak directly to one of our team members who will help you find the right container and services for your project in a matter of minutes. Your shingle dumpster will arrive fast and in a spot that works for your crew. For larger or long-term jobs, you can rent multiple dumpsters or even request a swap-out at any time during your project. Once the job is done, give us another quick call and we'll haul everything away.
Save Time: Once you call, we'll schedule and deliver your roofing dumpster rental ASAP.
Plan Ahead: If your project is a little way off, you can schedule a delivery in advance.
Cut Costs: We bundle your costs into one flat rate so you can budget better and save more.
Get Support: Have a full slate of roofing projects? You can call, email or text your representative directly to schedule additional services.
Need to rent a dumpster for your roofer?
If you're a homeowner working with a roofing contractor, or have other home renovation needs, we can help. Call 866-284-6164 to find the right disposal solution for your project.
Roofing Dumpster Costs
The average cost of a roofing dumpster ranges between $369 – $415, depending on your location and the container you choose. Because shingles and other roofing materials are extremely bulky and heavy, renting a dumpster for roofing is often much more cost-efficient than dumping the debris yourself.
| Roofing Dumpster Size | Roofing Dumpster Cost: |
| --- | --- |
| 10 Yard Dumpster | Between $262 - $677 |
| 20 Yard Dumpster | Between $335 - $761 |
*The availability and cost of a demolition dumpster varies by size and location.
What Can You Dispose of in a Roofing Dumpster Rental?
When you rent a dumpster for shingles, you can also get rid of other common roofing materials using your container, including: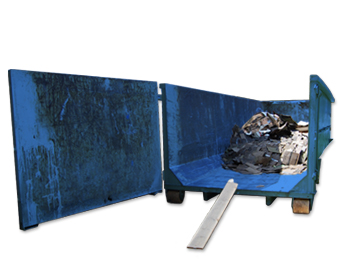 Tiles
Felt Paper
Asphalt Shingles
Wooden Shingles
Wood
Underlayment
Roofing Gravel
Flashing and Trim
We can also dispose of tar and polyurethane foam in many of our service areas, but be sure to keep any prohibited items out of your roofing dumpster. Check with our customer service team at 866-284-6164 if you have questions about a specific material.
Have More Projects to Work On? We Have the Dumpsters You Need
Call 866-284-6164 to find the right dumpster size and services for any project, including:
---
How Our Roofing Dumpster Rentals Work