How to Dispose of Bricks

Have some old bricks lying around? Despite their heft, they don't have to be a pain to get rid of. Whether you just want to get them off your hands or you're thinking about reusing them for other projects, there are plenty of hassle-free brisk disposal and recycling options you can use.
Take a look at the options below to learn how to dispose of old bricks without spending more time and money than you have to.

Brick Disposal Options
Before you dispose of those broken bricks and old paver stones using one of the options below, consider how much time and material you have. Both of these factors will determine which one is right for you.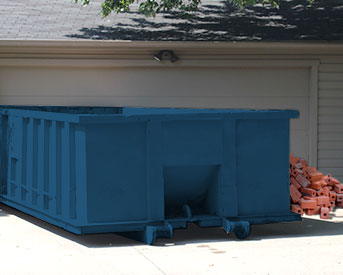 1. Rent a Roll Off Dumpster
One of the most convenient and cost-effective ways to remove large amounts of bricks is by renting a dumpster. Most haulers offer smaller dumpster sizes for brick disposal due to their weight, but these sizes typically allow you to get rid of up to 10 tons of debris. If your project involves getting rid of more than just bricks, some haulers may also allow you to mix other types of debris inside the container. That way you can easily dispose of concrete and other heavy materials at the same time. And don't forget the added convenience of not having to drive to the dump once you're done loading everything up.
Benefits
Things to Consider

A more cost-effective option for brick disposal.
Flexible rental periods allow you to work as quickly or slowly as you like.
Can dispose of other heavy materials at the same time in some cases.

Not ideal for small amounts of brick.
Have to load up the dumpster yourself.
Search for Dumpster Rental Prices in Your Area
or search your city/zip below
---
2. See if a Local Junk Removal Service Will Take Them
Most junk removal services will accept small amounts of construction debris, usually up to 2 tons in a single truck. However, you will need to double-check that they will take your bricks before scheduling a pickup. They will let you know how many bricks you can get rid of using one of their trucks, as well as whether they need to be stacked beforehand.
Benefits
Things to Consider

A low-cost disposal option for small amounts of brick.
They load up your materials for you.

Some services may not accept loose brick, requiring stacking or bundling before pickup.
Limited to a two-hour pickup window.
Won't receive a quote until they arrive on-site.
---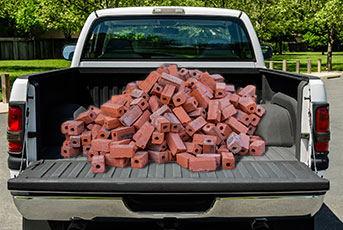 3. Haul Them Yourself
Depending on how many you have, you could dispose of your bricks yourself. However, you'll need a truck big enough to fit all of them. Your costs will also increase with each trip to the dump, as the landfill will charge you for each load of bricks and you'll also need to pay for gas. All things considered, this is a more suitable disposal option for small structures, such as a backyard brick oven.
Benefits
Things to Consider

A potentially low-cost disposal option for small amounts of brick.

Must rent or own truck big enough for all your materials.
Costs increase with multiple trips and distance to the nearest disposal facility.

How Much Does Brick Disposal Cost?
The cost to dispose of your bricks will depend on how many you have, often measured by weight. If you decide to use a junk removal service to get rid of your bricks, you can expect to pay an average of $550 to haul away 2 tons of debris. In contrast, the cost to rent a 10 yard dumpster averages out to $369 and can hold up to 10 tons of material, depending on where you live.
If you're demolishing a large structure, such as a chimney, you're almost guaranteed to save more on brick disposal by renting a dumpster. Not only will you be able to dispose of more for less, but you'll also be able to load up the bin in your own time instead of having to get everything ready at once for a drive-by pickup.
Throwing out concrete and asphalt too?
Use our concrete calculator to estimate the weight of your debris

Options for Recycling and Reusing Bricks
Wondering how you can recycle bricks? You can either donate them to another project or reuse them yourself with a little DIY know-how. Look through the options below to see if you can repurpose your bricks for another organization: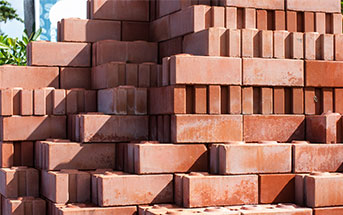 1. Find a Local Materials Exchange Program
Many states and local governments maintain exchange programs that list individuals, businesses, schools and organizations working on projects that can reuse old bricks. Check both your state's department of environmental protection and your city's public works department to see what exchanges are offered in your area.
2. Sell Them to Local Contractors or Individuals
Bricks are a hot commodity, if you know where to find potential buyers. Craigslist or the classifieds section of your local newspaper are a good place to start, but you could also reach out to contractors in your area directly. Note that buyers will only pay for whole, used bricks. Chipped or broken bricks should be disposed of instead of sold as they have very little value.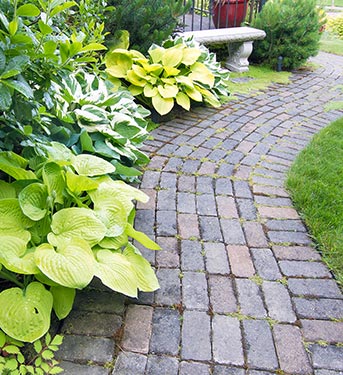 3. Use Them in Your Own DIY Projects
There are many ways to reuse and repurpose bricks at home without having to build a whole new structure. Here are just a few ways to recycle your bricks without donating or selling them:
Brick Walkways: With a little prep work and a free weekend, you can reuse your old bricks as walkway pavers.
Garden Bed Edging: Another great weekend project is to build garden bed edges out of your bricks. No masonry skills required.
Brick Fire Pit: You can use normal red clay bricks to build an outside ring around a fire pit. However, you'll want to use what are known as "firebricks" for the inside ring closest to the fire as regular bricks can crack at high temperatures.

Frequently Asked Questions About Brick Disposal
Where can I dump bricks near me?

You can dispose of bricks at any of the following locations:

Local landfills and recycling centers that accept construction and demolition debris.
Local companies that accept bricks and other building materials from the public.

You should not dispose of bricks at any of the following locations:

Local parks or public property.
Private property.

Where can I dispose of bricks for free?

The best way to get rid of bricks at little cost to you is to sell them or give them away. See our recycling and reuse tips above to find a free brick removal option near you.

Can I mix bricks with other debris in a roll off dumpster?

Disposal guidelines for bricks vary by location. In most cases, haulers will let you mix bricks with other heavy debris, such as concrete, in the same dumpster. In either case, you should make sure you keep all prohibited items out of your bin to avoid contaminating your debris. If you're not sure if you can throw something away with your bricks, call us at 877-220-6380.

Have Something Else to Throw Out? Find the Right Guide Below: