How to Dispose of Roof Shingles

Replacing your roof is a big job. You need to think through everything from buying new shingles to finding a way to dispose of roofing material. Make your project a little easier by choosing the right roof shingle disposal service for your project, whether that's renting a dumpster or recycling your roof shingles.
Types of Roofing Shingles and Tiles
When deciding on a roof shingle disposal service, make sure you know what type of shingle you are getting rid of and confirm that it is accepted by your disposal service. Types of roof shingles and tiles include:
Asphalt shingles
Slate shingles
Wood shingles
Clay tiles
Concrete tiles
Asphalt shingles are the most common for residential properties. Additional roofing materials include felt paper, wood, underlayment, roofing gravel and flashing and trim.

Roof Shingle Disposal Options
When deciding what to do with old shingles, consider the amount of roofing debris you have and who will be doing the work. Then, choose the roofing disposal option that best suits your needs.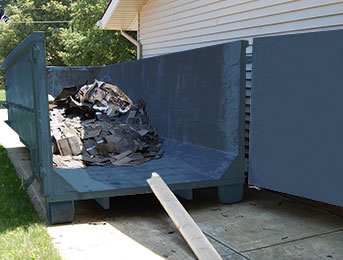 1. Rent a Dumpster
When it comes to roof shingle disposal, one of the simplest ways to get rid of your debris is to rent a roll off dumpster. A dumpster rental accepts all types of roofing materials, shingles and tiles. You can rent the container for the entire length of your project, so there's no rush to load up your shingles. You also won't have to make multiple trips to the local landfill, saving you and your contractor more time and money.
Benefits
Things to Consider

Find the right size dumpster to dispose of all your roofing materials.
Rent the bin for the length of your roofing project.
Each container holds more than four pickup truck loads of debris.
Dumpsters are easy for roofing contractors to work with.

Disposal regulations vary based on location. Speak to an expert to find out what type of materials are accepted in your area.
Search for Dumpster Rental Prices in Your Area
or search your city/zip below
---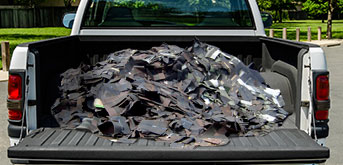 2. Haul Shingles to Landfill for Disposal
You can haul asphalt shingles and other materials to a local landfill for disposal. Simply fill a pickup truck with the debris and unload it at the landfill. You'll need to pay fees based on the weight and type of debris, which can vary by location and facility. Depending on the size of the project, this may require multiple trips.
Benefits
Things to Consider

Low-cost disposal option.
Let's you complete your disposal the DIY way.

You will need to make several trips to the landfill.
Truck beds only hold a small amount of debris.
Trips to the dump will add time to your project.
Not always an option when you are hiring a contractor to complete your roofing project.

How Much Does Shingle Disposal Cost?
The cost of disposing of your shingles depends on the size of your project, as well as the amount and weight of your roofing debris. The most common dumpster size for a residential roof replacement is a 20 cubic yard dumpster, which costs an average of $415 and typically includes a 3-4 ton weight limit. This allows for a mix of shingles and roofing materials. If you have enough shingles to fill a 20 yard dumpster without other materials, call us to discuss your options.
You can get a better estimate of the cost of disposing of your shingles by calculating their total weight. Use the calculator below to estimate the weight of your roofing debris and determine the size and number of dumpsters you will need.
How Much Does a New Roof Cost?
The cost of replacing your roof depends on the size of your home, the roofing materials you choose and who is completing the work. The cost to completing a DIY installation of asphalt roofing shingles can range from $680 to $3,700 while professional installation of asphalt shingles can cost between $1,700 and $8,400.

Options for Recycling Roof Shingles
Looking for an environmentally friendly way to get rid of your roofing materials? Depending on the type of shingles you have, you may be able to recycle them.
How to Recycle Asphalt Shingles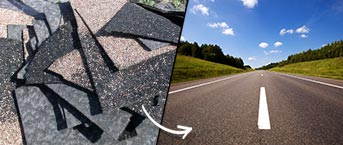 If you are pulling up asphalt shingles, you can chose a shingle recycler to help you get rid of them. Asphalt shingles are recycled into asphalt used to make pavement. Most other types of shingles or tiles cannot be recycled in this manner.
To find a shingle recycling service near you, use Earth911's recycling locator. Depending on the service, the recycler may bring you a container to collect the shingles, or require you to drop them off. Shingle recycling is not available in all areas.
Important Note: If you choose to recycle your shingles, you will still need to dispose of other roofing materials, including felt paper, wood and roof gravel. Call us for a free quote.

Frequently Asked Questions About Shingle Disposal

Have Something Else to Throw Out? Find the Right Guide Below: