How to Dispose of a Mattress

Wondering how you should dispose of that old mattress? Despite being bulky and heavy, there are several options for mattress disposal, including renting a dumpster, donating a gently used mattress or recycling it. Use the options below to find the mattress removal solution that is right for you.

Mattress Disposal Options
A gently used mattress can be donated, but if yours is old and worn-out, you'll need to throw it away. Look through the mattress disposal options below to find one that's convenient for you.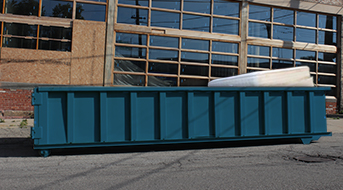 1. Rent a Dumpster
If you're disposing of an old mattress as part of a larger home cleanout, renting a dumpster is a good option for getting rid of all your junk at once, excluding prohibited materials. With a dumpster rental on your property, you can easily carry your mattress and box spring into the bin and be done with it. The price of a dumpster rental is also more cost-effective than most other disposal options.
Benefits
Things to Consider

Choose a dumpster size that fits your project.
Keep the container as long as you need it.
You'll only have to move the mattress once.
Allows you to dispose of multiple mattresses and other clutter.

In some areas, mattresses are not allowed in dumpsters or require an additional processing fee. Call our team to learn more about using a dumpster for mattress disposal near you.
Not ideal for disposing of only one mattress.
Looking for a Great Mattress Removal Option Near You?
or search your city/zip below
---
2. Check With Your Curbside Trash Collection Service
In some areas, municipal curbside collection services will collect mattresses during weekly service or on specified days. Reach out to your service provider to find out if this is an option in your area.
Benefits
Things to Consider

Low-cost disposal option.
Useful if you are only throwing away one mattress.

Not available in all areas.
You will need to store your mattress until the scheduled collection day.
There may be an additional fee for this service.
---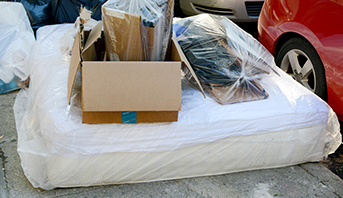 3. Junk Removal Service
Junk removal services are another option for mattress removal. This service will come to your location and haul away your mattress and other junk using a truck. However, you won't get a quote for this service until they see how much space your items take up in the truck. You will also need to be on-site during the process and work within the two-hour window they provide.
Benefits
Things to Consider

Service will load up your old mattress for you.

Will not provide a cost estimate until they see your junk.
Can only provide a two-hour window for your pickup.
Not economical if you're completing a large project with lots of junk.

How Much Does Mattress Removal Cost?
Mattress removal costs depend on the number and size of the mattresses you're getting rid of, as well as the service you choose and your location. Using a recycling service, you can usually expect to pay $20 to $40 fee for each mattress. Disposing of a mattress through a junk removal service can cost anywhere from $100 to $150, based on the above factors.
If you are getting rid of multiple mattresses as well as other household junk, a dumpster rental is the most economical option. The average cost of a dumpster rental is $433, which typically covers 20 cubic yards' worth of junk, more than twice the amount included with your typical junk removal service and can fit multiple mattresses and box springs.
In contrast, the average cost of using a junk hauling service is $297, which usually covers only 9 cubic yards' worth of junk.

Mattress Recycling Options
There are some ways to get rid of your mattress by recycling it. These options will allow you to keep the mattress out of the landfill and reduce your carbon footprint.
1. Consult the Mattress Recycling Council
In California, Connecticut and Rhode Island, mattresses are legally required to be recycled through a program administered by the Mattress Recycling Council, which costs between $9 and $11 per mattress. To get rid of your mattress in these locations, you will need to have your mattress removed by the retailer when the new one arrives or deliver it to a certified recycling facility.
2. Find a Recycling Location Near You
There are also more than 20 other states with at least one mattress recycling facility. Use PlushBeds' recycling guide to find a facility near you. Fees may apply.
3. Ask About Retailer Take-Back Services
If you are in the process of buying a new mattress, ask the retailer if they will remove and recycle your old mattress when delivering the new one. This common option is convenient but may include a small fee.

Options for Donating Your Mattress
Even if you are getting a new one, you may not have to throw out your old mattress if it doesn't show much wear. If the mattress is less than 5 to 7 years old and does not have any rips, stains, frayed edges or obvious signs of compression, it could still be useful to someone else.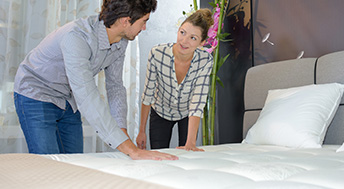 1. Find It a New Home
Check with relatives and friends who may be looking for an extra mattress, or simply want to replace their current one. As long your as mattress is in good shape, this is a great way to keep it out of the landfill.
2. Donate Your Mattress to a Local Nonprofit
There are also numerous nonprofit organizations and institutions that would gladly take your gently used mattress. The groups below generally accept mattress donations, though local policies may differ.
These organizations usually offer mattress pickup:
These organizations typically require mattress drop-off:
Places of Worship
Local Charities and Shelters

Frequently Asked Questions About Mattress Disposal

Have Something Else to Throw Out? Find the Right Guide Below: