6 Yard Dumpsters
Dimensions and Capacity of a 6 Yard Dumpster Rental
A 6 yard dumpster is a great fit for commercial buildings such as logistics centers, warehouses and industrial facilities, since they can handle a large amount of waste. So, exactly how big is a 6 yard dumpster?
Dimensions: 5 feet x 6 feet x 6 feet.
Capacity: Can hold approximately 45 bags of trash.
Weight Limit: Typically can store up to 1,200 pounds. of material.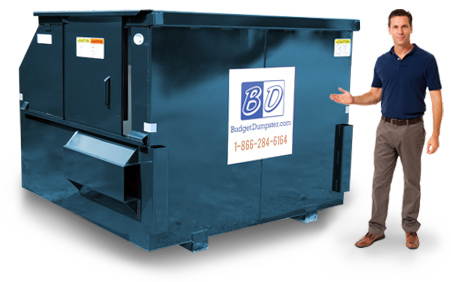 Prohibited Items
Even though they afford plenty of space for garbage, there are still certain things that cannot go in a 6 yard dumpster. This includes hazardous waste such as flammable, corrosive, infectious or toxic materials. Additional items we cannot accept include car tires, resins, soil or any construction and demolition debris.
Businesses That Should Rent a 6 Yard Dumpster
Most commercial buildings with between 5,000-10,000 square feet of space will get the most mileage out of a 6 yard dumpster. Due to its large size, it can accommodate bulkier materials on a weekly, or even biweekly, basis. This flexibility comes in handy when your warehouse or industrial park becomes a hot bed of delivery trucks and shipping containers that threaten to overrun your loading dock. With a 6 yard dumpster, you can get all of those packing materials and cardboard boxes tossed out easily without any broken backs or an unpleasant pile of trash hanging out by your back door.
Other businesses that might find this size useful include wholesalers and large retailers, both of which go through a lot of materials in the course of stocking their shelves and distributing their wares. 6 yard dumpsters feature a side door that can be used instead of the bin's lid, making it easier to dispose of trash bags, cardboard, old product and anything else you have to throw out.
Where Can I Place a 6 Yard Dumpster?
If you choose to rent a 6 yard dumpster there are a couple of things you should pay attention to in terms of side placement. Ensure that the area where you wish to place it is large enough to accommodate a full-sized garbage truck. These vehicles are equipped with both front- and rear-loading lift systems that require at least 40 feet of clearance in order to maneuver in front of the dumpster. Since these trucks are so large, it is not recommended to keep this dumpster in an alley.