Commercial Dumpster Rental Prices
Find Low-Cost Services for Your Business
At Budget Dumpster, we keep our commercial dumpster prices low and our billing process as simple as possible so that our customers are completely satisfied with their monthly bill. No matter what your business or how much waste removal you need, we make reliable trash pickup easy and affordable.
Low Commercial Dumpster Costs With Easy Billing
We never want commercial dumpster costs to jeopardize your budget. That's why we offer low, flat-rate prices. Our billing is very easy to understand because we don't bombard you with multiple line-item charges and fees. When you get a bill from us, you won't see:
Service Fees.
Fuel Surcharges.
Environmental Fees.
You'll only see a simple, flat rate that stays the same each month, making budgeting a stress-free process.
Our Commercial Dumpster Pricing:
How does flat-rate pricing compare to the alternative? Below is an example of one of our flat-rate bills versus an example of a bill with line item charges.
Other Commercial Dumpster Pricing: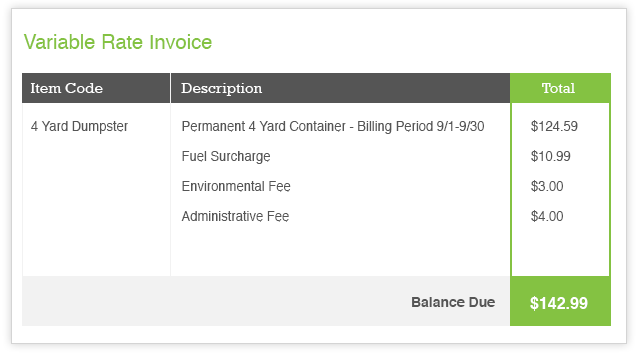 As you can see, the simplicity of flat-rate billing can save you the headache of having to go through multiple line item charges every month to check whether your bill is correct.
Request a Commercial Dumpster Quote
If you like what you see, go ahead and give us a call! Our customer service representatives will gladly answer any of your questions or concerns. We make sure we are transparent with our pricing with all of our customers.
If you are new to the waste management scene and have questions about your trash collection schedule, don't hesitate to ask. We'll be here every step of the way. Start the process by requesting a quote and you'll be on your way to enjoying the savings and simplicity of flat-rate commercial dumpster prices.