Residential Dumpster Rental Guide
Home Dumpster Rental Tips
Renting a roll off dumpster isn't an overly complicated process. You can make a phone call and everything can be set up within 5-10 minutes. There are a few things to keep in mind when you go to place an order and following our guidelines will ensure an affordable, successful dumpster rental. Read our five simple tips for renting a dumpster below and sign up for our free Dumpster Rental Guide to get all the need-to-knows when it comes to a residential dumpster rental.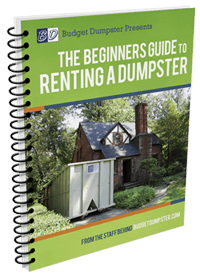 Take advantage of our FREE Beginners Guide to Renting a Dumpster!
Don't get BURNED on your next dumpster rental!
Learn how to save time, money and energy!
Realize what sets Budget Dumpster apart from other rental services in the industry.
Simple Dumpster Rental Tips
Rent a Dumpster with a Flat Rate. When you are looking for the best deal on a roll off, a flat rate is the best possible option in order to save money. It allows you to know exactly what you are going to spend, combining all taxes and fees into one upfront price. Other dumpster companies quote a certain price when you call, then stick you with hidden fees for fuel, delivery and a plethora of other charges once your rental is complete. At Budget Dumpster, all of our dumpster prices come with a flat rate.
Keep Dumpster Weight Limits in Mind. Each dumpster has a designated weight limit. Make sure you're informed of this before you schedule your order, as the size of the container and location can impact weight limit. Trucks and landfills are restricted by law to only accept a certain tonnage of debris in a dumpster. Overloading can lead overage fees or the need to unload the dumpster. Our representatives will be able to help you determine the right dumpster size and if it will be able to handle your upcoming project.
Know the Length of Your Rental Period. Every company is different when it comes to the time you can keep a dumpster. For us, rental period begins from the point the dumpster is delivered and not when you place the order. When you are finished with the dumpster, we do not automatically come out to remove it from your location. This is to ensure you have the dumpster as long as you need. You must first call us and schedule removal. Budget Dumpster gives every customer ample time to complete their project, allowing at least a week. Extensions can be made for a small fee on a per day basis.
Prepare Your Space for Delivery. Working with Budget Dumpster, you'll be informed of the dimensions of the container. From there, we'll help you decide the best plan of action in terms of placement and how it works with the dimensions of your driveway or lot. The delivery location should be easily accessible with no cars or other objects blocking the area.
Understand What You Can Put in a Dumpster. Flammable and hazardous debris aren't accepted in dumpsters. Based on where you live, there may be other types of debris that can't be placed in a dumpster. Construction and other heavy debris have special containers that cannot mix with other material. It's a good idea to rent accordingly, know what you will be disposing of and work with our staff to ensure you're renting the correct size and type of dumpster. Learn more about what you can put in a dumpster.
Keep these five home dumpster rental tips in mind when you are renting a dumpster. Never hesitate to call if you have any questions or need to order another dumpster.