Summer is almost here and that means outdoor parties and get-togethers. An important factor in ensuring a good time is to have your house and yard ready for these outings. We're going to share with you the best Atlanta landscapers that can help make your property more beautiful and ready for the warmer months. Whether you need a little bit of maintenance for a specific party or a complete renovation, these professionals can cater to your specific needs.
Ameriscape Landscaping
Located just outside Atlanta on Highway 85, Ameriscape Landscaping collaborates with its clients to design and build landscapes that are user friendly and timeless. Whether you're a homeowner or need services for a commercial property, there's a good chance Ameriscape Landscaping can handle it. It offers a variety of services that range from waterscapes to outdoor structures to simple lawn maintenance. Ameriscape is known for its award winning work. If you want your property to be the prettiest on the block, choose Ameriscape Landscaping.
Mobile Joe's Landscaping
Mobiles Joe's has been serving the greater Atlanta area for over 20 years.  Joe attends every job and doesn't use any sub-contractors. He offers a full range of services. If you're looking to add a retaining wall to your yard, its architects are very meticulous when it comes to their work. Or if you are having problems with your irrigation system, Mobile Joe's will make sure your grass will stay green during the summer. Mobile Joe's has consistently proven itself to be a landscaping company you can trust.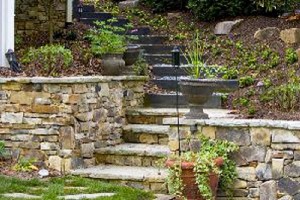 Gibbs Landscape Company
Gibbs Landscape is considered to be the king of landscaping in Atlanta. With over 45 years in experience, and earning 275 awards, it's safe to say the company knows how to maintain a landscape. It uses its special "Gibbs Approach" for every commercial and residential project. Gibbs Landscape believes the difference between ordinary and extraordinary is "that little extra." No matter what kind of landscaping you need for your property, Gibbs will be able to give it to you. To turn your yard into an oasis, choose Gibbs Landscape.
Handy Andy Outdoors
Handy Andy has been dependable and honest to the Northern Atlanta Metro area since 1998. The company realizes your time and resources are valuable. Its solutions are creative and cost-effective. Whether it's installing a kitchen for your patio or a cozy fire pit, Handy Andy will do it with minimum disruption to your property. Every property is unique. So the company tailors its expert advice to the specific property needs. If you want a staff that is loyal to your property, choose Handy Andy Outdoors.
Elite Landscape Services
If you're looking to do a larger project for your property, your best choice is Elite Landscape. This family-owned business has been handling Atlanta's corporate and residential landscaping needs since 2001. With a wide variety of hardscape projects you can choose from, including a number of relaxing water features, Elite Landscape can cater to all of your backyard dreams & needs. The company has even been featured on HGTV's Ground Breaker program. For a company you can trust, choose Elite Landscape.
Did we miss a landscaping company in the Atlanta area that you have used? Let us know in the comments section!