Dumpster Rentals for Your Auto Shop
Reliable Automotive Waste Management Services
Managing an auto repair shop is messy enough without having to keep on top of your automotive waste disposal service. Fortunately, we offer a commercial dumpster service that you can set and forget. With a quick call, you can arrange ongoing trash collection for your shop that fits the specific disposal needs of your business. And if you ever need an additional pickup or to change your existing schedule, we're here to help. Call today for a reliable automotive waste management service.
Which Dumpster Size Is Right for My Auto Repair Shop?
You can choose between four different container sizes, ranging from 2 to 8 cubic yards. Most auto repair shops use our smaller container sizes to account for their lower volume of trash compared to larger commercial properties.
2 Yard Dumpster: Holds between 600 to 800 pounds of trash, making it ideal for properties with limited space.*
4 Yard Dumpster: Can hold between 800 to 1,000 pounds of trash. This container is best suited for medium-sized businesses.*
*Please Note: We cannot dispose of motor oil, antifreeze and other hazardous automotive chemicals.
Of course, if you have a lot more automotive waste to dispose of than the average shop, let us know. Our team will work with you to examine your waste stream and determine if one of our larger commercial dumpsters is the right fit for your workplace. After all, we're here to serve the needs of your business. If your operation grows, we'll grow with you by providing a larger container or even multiple bins for your location. Call us at 833-499-7513 and start working with one of the best waste management services in the automotive industry.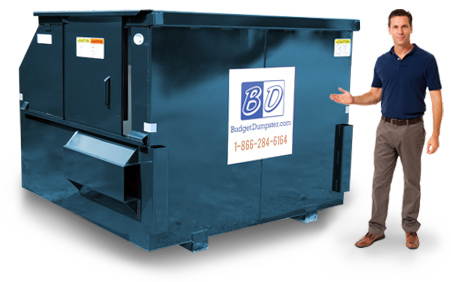 A Simpler Way to Manage Your Automotive Waste
As soon as your dumpster is dropped off, you'll never have to worry about your trash again. Your pickup schedule will be up and running by the date we delivered your container, which means all you've have to worry about is making sure someone takes out the trash. Whether you're emptying out your office trash cans or cleaning up around the shop, we'll help keep your business running smoothly.
How We Make Automotive Waste Disposal Simple