Small Business Dumpster Rentals
Streamlined Waste Removal Services for Business Owners
Running a business is complicated. We're here to simplify one aspect of it by offering simple and efficient waste removal at low prices that protects your bottom line. Our small business dumpsters come in a range of sizes to accommodate any amount of debris, and you can choose the pickup frequency—weekly or monthly—that works for you. Even our billing is simple, with flat-rate pricing that ensures you'll never be surprised with unexpected charges.
Search for Dumpster Rental Prices in Your Area
or search your city/zip below
What Dumpster Size Is Right for My Small Business?
With Budget Dumpster, you can choose from four different commercial dumpster sizes to find the right container for your business's specific needs. The most common dumpsters for small businesses are:
2 Yard Dumpster: Holds 600 to 800 pounds of debris and is ideal for businesses with a small staff or limited space to fit a dumpster.
4 Yard Dumpster: Holds 800 to 1,000 pounds of debris and is a great choice for medium-sized offices.
If you're unsure of which size to rent, give us a call at 833-499-7513. Our customer service team will help you make the best choice based on the size of your staff and your trash volume.Whichever size you choose, you'll enjoy reliable commercial dumpster services you can easily customize to fit your business's needs.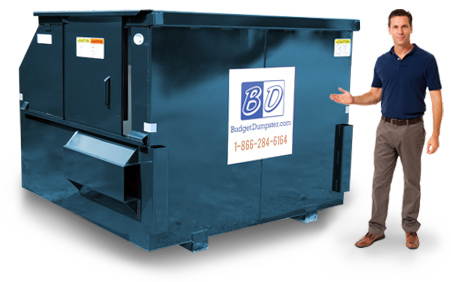 Business Waste Removal Made Easy
Here at Budget Dumpster, we work with small business owners of all stripes to provide stress-free dumpster services that keep their business running smoothly. Our flat-rate pricing allows you to budget for waste removal without worrying about hidden fees. Instead, you'll always receive a consistent rate with a straightforward, easy-to-read invoice. Choose from one to three-year contracts and monthly or weekly pickups for a service geared to the specifics of your business.
How We Simplify Business Dumpster Services