Dumpster Rentals for Restaurants and Bars
Responsible Restaurant Waste Management Services
As a restaurant manager, you've got enough on your plate. With one call to us you can set up a commercial waste management service for your restaurant that will save you time and money. Our services are economical, ensuring your waste is collected on time and disposed of responsibly, all without cutting into your margins. We're in the business of helping your business succeed. Give us a call today for a dumpster service your restaurant can rely on.
Which Dumpster Size Should I Rent for My Restaurant?
Not sure which commercial dumpster your restaurant needs? Our team can help you determine the right size for your specific location. Whether you manage one establishment or run several chains, we'll work with you to find the right containers for all of your disposal needs. Most restaurants use our larger dumpster sizes so there's plenty of room to throw out the trash at the end of the day.
6 Yard Dumpster: Can hold between 1,200 to 1,400 pounds of waste, making it an ideal fit for medium to large restaurants.
8 Yard Dumpster: It can hold between 1,400 to 1,600 pounds of waste. This size is well-suited for businesses with very large footprints.
*Please Note: We cannot dispose of motor oil, antifreeze and other hazardous automotive chemicals.
We'll assess your waste stream before sending a quote. That way you can be sure you have the right size commercial dumpster for the volume of waste you normally receive during the week. We'll also help you choose a regular pickup schedule for your convenience.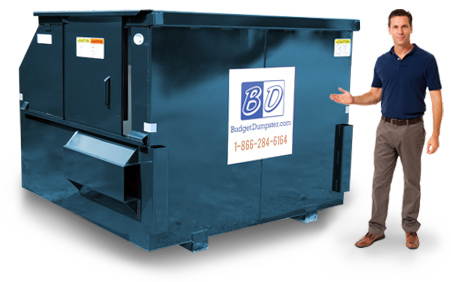 We'll Manage Your Restaurant's Waste Simply and Affordably
You're in the business of providing people with good food and good times. With us, you can forget about your garbage and focus on the two things a restaurant owner really cares about: the menu and creating the right atmosphere. With one call, we can have a dumpster parked behind your restaurant in no time. After that, it's just a matter of taking out the trash. Call today to get started.
How We Simplify Restaurant Dumpster Services